The demand and supply for the construction industry are ever-growing. Backed with innovative solutions and rapid tech advancements construction businesses today are one of the most opportunistic sectors for start-ups and entrepreneurs. Today, we will look into some of the most profitable construction business ideas that are shaping the world
We have categorized the ideas into three types.
Manufacturing
Services
Sales and Enterprise
Manufacturing Related Construction Business Ideas
1. Prefabricated Manufacturing Company (PreFab)
Prefabricated houses are a common sight in construction sites, logistics, office spaces, etc., they are faster, cheaper, and easy to install. They are not only just used as readymade buildings for domestic or commercial purposes. But also act as an emergency shelter during natural calamities and War.
For beginners, it might look a little complicated to get into this business, but it is actually not that hard. You can utilize your time to dig into a research Article, explaining several aspects and strategies for prefabricated housing business that are simplified for beginners too
2. Screen Doors Making Company
These modern doors are popular in keeping away insects without obstructing the airflow. The demand for screen doors is increasing rapidly as they are affordable, keep aways insects, don't obstruct light as well as improve the aesthetics of a house. They come in different designs such as sliding doors, retractable screen doors, and swinging screen doors.
The materials required for manufacturing screen doors are affordable, they mostly require materials such as PVC, Aluminium or Other metals, Magnets, Nuts and bolts, and a few hardware accessories which mostly come at an economical price point.  Most of the investment goes for machinery, marketing, and manpower.
3. Precast Concrete Manufacturing
This is one of the ideal construction business ideas that you can consider if you have enough workforce and money. Precast concrete is today one of the most important structural components in the construction industry for its innumerable benefits.
Different materials such as compound walls, bricks, and beams are made from Precast concrete. They provide good insulation, strength-to-weight ratio, quality, and better finishing. These ready-made concrete objects are utilized in almost all areas ranging from Commercials buildings, Offices, Apartments, Tunnels, Roads, and homes.
Why this is a great business idea? The process of making precast concrete involves the use of Aerated Concrete (AAC) the main raw material for the manufacturing process that undergoes different steps such as batching, Cutting, Curing, packing, and then finally installing at the site. Usually, the manufacturing process is simpler. However, the setback of this business is the volatility of raw materials, high energy consumption, and transportation. If you can overcome these things. Then, you are good to check out this profitable business idea
4. Manufacturing of PVC Products
PVC is the third most produced plastic in the world with the highest market share in construction materials. With PVC one can make several products such as Windows, Doors, Pipes, wires and etc., to put it in simple words one cannot imagine any construction activity without PVC materials.
It is inexpensive, durable, rust-proof, lightweight, and flame-retardant. Due to advanced technology, The process of making PVC materials has become efficient these days. One can start a small-scale PVC manufacturing plant that produces Pipes, and moldings. Thanks to technology, the machinery required to produce this material come at an affordable price which is around $30,000 to $75,000, and takes smaller space to set up. With little extra effort and money if you were able to get the node of market demand and competitors and find out prospective customers you can make a reasonable income out of this business
5. Manufacturing of Bricks
There is no introduction required to tell why bricks are important for the construction industry. But we have to tell you there are a variety of bricks used in the construction industry. Today, most of the structures that we see rarely use conventional sun-dried bricks and move towards fly ash bricks, engineered bricks, or concrete bricks which provide better strength, insulation, and porosity. If you have a zeal and see there is a raise in the infrastructure sector in your country or town its time that you consider starting a brick manufacturing facility
6. Metal Mesh Manufacturing
This is one of the unique construction business ideas that has a fair market demand in almost all parts of the world. The process of metal mesh making is simple. The metal sheet is the primary material required to produce the mesh which is mostly made up of aluminum, carbon steel, or galvanized steel. These sheets of metal were fed into the metal-making machine that slits and expands them giving them the shape of the mesh. The overall manufacturing process requires 1- 2 mesh making machinery, few workers, sheets of metal, and an ample amount of power supply. Considering its simple process and fair market demand you can consider starting this business.
7. Plywood Manufacturing Plant
Plywood also commonly known as engineered wood is one of the most used interior designing materials in the construction industry. It has diverse usages in the sectors like automobile, furniture, Shipbuilding, and architectural projects.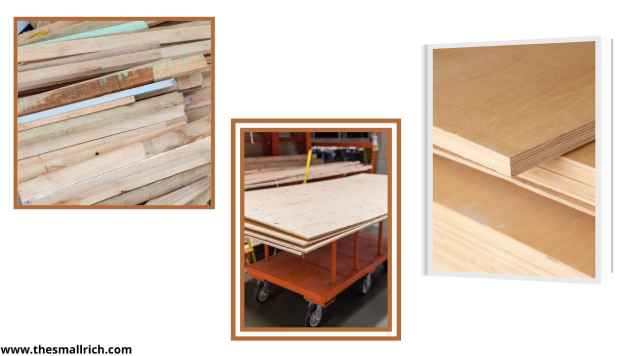 The manufacturing process of Plywood is significantly economical and the raw material which is basically wood chips or wooden logs are mainly obtained from trees like Pine, Spruce, Eucalyptus, and Kadamba which are also economical. There are diverse products that you can manufacture from plywood such as wooden sheets that are used for exterior and interior flooring, MDF boards that are used to make different furniture, and other things like skateboard ramps, work benches, step tools, etc.,
8. Nuts and Bolts Manufacturing
This can be considered one of the best construction business ideas for beginners. the manufacturing process of nuts and bolts is ideally simpler to understand and economical. The machinery is easy to operate and also comes in different price ranges. The facility can be run with 2-3 workers in a rotational shift. One can produce different types of nuts and bolts with varying strengths and applications. These are the basic material required in any manufacturing sector making it a valuable business idea
9. Sandpaper Making
The making process of sandpaper is very simple it can also be started from home. Sandpaper is used to polish rough surfaces and makes them suitable for polishing. It is used while making furniture, ceiling, flooring, and other construction activities. All the materials and equipment required for making sandpaper are quite cheap and the process of making sandpaper is also easy and economical. If you already have other construction-related business you can also add this as a minor business
10. Corrugated Metal Sheet Manufacturing
This is one of the most profitable construction businesses to start, corrugated metal sheets also called 'Wall Cladding sheets' are mainly used for roofing purposes for sheds, small-scale industries, garages, workshops, and stables. They were cost-effective, lightweight, and easy to install. Making them affordable for all types of structures. Due to its numerous uses and market demand, it is considered to be one of the practical business ideas to start.
Service-related Construction Business Ideas
11. Waterproofing Contract Service
Being a waterproofing contractor has several benefits there is no shortage of business, the margin amount is significantly high, and the materials used in this business were not only economical but last for several jobs.
There are different types of waterproofing services that you can offer such as basement waterproofing, rooftop waterproofing, and ceiling waterproofing. Each service has its own rate. It's also one of the businesses that you can start with low investment, and minimal education and run it alone. You can start taking smaller jobs initially and then gradually train to become a certified waterproofing contractor – These contractors have a high hourly rates and are sorted out by big real estate ventures for their consultation
12. Construction Waste Cleaning Service
The amount of waste material that gets deposited during construction is huge and it is not an easy job to clean this mess! However, there are businesses that solely work on collecting construction waste and then dispose of them in dedicated areas. But we must inform you that it is labor-intensive work and required quite a good number of workers and machinery working all together day and night to get the site clean
13. Ceiling Contractor
A ceiling is a basic necessity for offices, hotels, restaurants, etc., it helps improve the aesthetics of the space and also helps conceal wires, and fire safety systems, and also improves the moisture resistance of the structure.
This business enjoys a good number of orders throughout the year making it one of the best construction businesses to start. You need to have some practical experience before jumping into this business as an apprentice and gain the knowledge to learn the art of ceiling work and understand the equipment and materials. Generally, it takes around 2 to 3 years to become a professional ceiling worker. Once you familiar with the work and customer requirements you can start your own service
14. Excavation Services
No introduction is needed for this service. It's one of the most important services for any construction work to get started. You can start a small-scale excavation business with a mini excavator and a few tools.
There are jobs that you can perform alone in this business as well as work as an operator. One can expect an hourly wage of around $18 to $35/per hour. Does it sound less? Well, don't be surprised, excavation services are something the clients would like to see an experienced operator to get their job done and they are willing to pay more if you are well qualified; Although it takes time and hard work, Once you get more experience and know how to scale up an excavation company you can buy more machinery, hire workers and expand your services and establish yourself as a top-notch excavation company
15. Landscaping Services
Those who have an interest in designing things and improving the aesthetics of a site should definitely try out this idea. As a landscaping service, you were assigned to make an outdoor area look more beautiful with lush green trees, lawns, yards, shrubs, and patios. You were also required to use different materials and techniques to make the best view possible.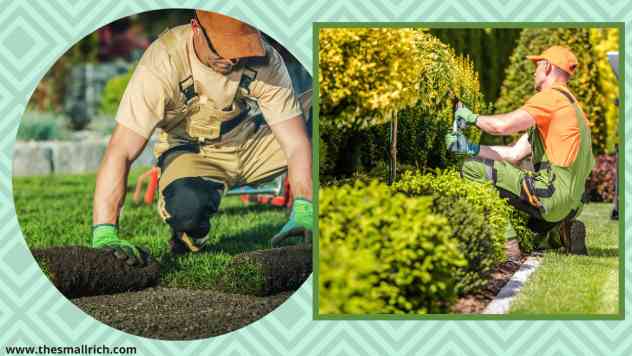 Basically, in order to start a landscaping company you need to have an idea of different types of plants, types of soil and be well versed with natural elements such as weather and lighting conditions. You should also be good at art and designing things. According to a report, the average salary of a landscaping contractor in the United States is around $63,629.
16. Home and Commercial Painting Business
This is one of the easiest construction-related business ideas that is suitable for beginners. Paintwork is almost inevitable, any structure needs to be painted a number of times throughout its lifetime making it a business with continuous demand.
This is one of the simplest business ideas because, it's easy to start, requires formal education, and is faster to learn. Unlike home painting services which are mostly done in conventional methods a commercial painting service is usually time and resource-consuming. It requires a good amount of money, material, and skilled workers to complete a project. However, the ROI is usually high when compared to the home painting business.
17. Handyman Service
This is one of the easiest and most reasonably profitable business start-up ideas one can start with very less investment and a lesser workforce. One can even run this business alone without the help of workers.
A typical day of a handyman includes calls from customers to fix electrical equipment and basic pluming and mechanical activities. Once you grow gradually you start hiring an apprentice and then start slowly building a small team who can take up the jobs; while you can take care of business operations.
According to sources on average handyman earns up to $18.24 per hour and this changes depending upon the experience level, type of job, and locality you are working. Overall, this is one of the lucrative business ideas that can be started with less capital and a simple side hustle
18. Welding and Fabrication Services
A well-established welding and fabrication work service can gain a yearly profit of about $70,000. This is one of the services that enjoys continuous demand in the construction industry. Typically, welding and fabrication service jobs include welding of pipes, tubes, rigs, farm equipment, materials, or tools that support construction projects.
Almost this is a service that caters to domestic, commercial, and industrial sectors and as you skill up you can get jobs that pay high-profit margins such as industrial pipeline welding, underwater welding, and oil rig welding, etc.,
19. Interior Designer and Consultant
If you have a creative mindset and love to improve the aesthetics of space then, you should definitely consider starting an interior designing service company. Because, today, the interior designing service market has a booming growth.  By 2027 it is estimated to increase by USD 34029.03 million.
Moreover, people are interested to spend money to modify their spaces to look more pleasing and more optimized. You have a wide range of contracts, starting with designing a children's bedroom to large-scale apartments. If you have enough experience and handled multiple projects you can start your own interior design consultation company
20. Civil Engineer Consultancy service
You cannot start building any structure without a civil engineer. They are key for any construction activity. With booming infrastructure activities throughout the world and especially, in countries like India, China and Dubai, and several middle eastern countries, the demand for civil engineers is going up. A typical civil engineer's job includes assessing the project, developing blueprints, monitoring the project, and preparing budgets. This is one of the best construction business ideas for experienced individuals.
Unlike other jobs, to setup a civil engineering consultancy firm you require a lot of experience and fieldwork.
Sales and Enterprise Related Construction Business Ideas
21. Tiles and Ceramic Store Business
Retailing of tiles and ceramics is known to be one of the popular business ideas in construction businesses. Although there are different materials used for flooring and interior or exterior designing, tiles are the go-to choice by the majority of people – They were economical, easy to install, and come with different designs.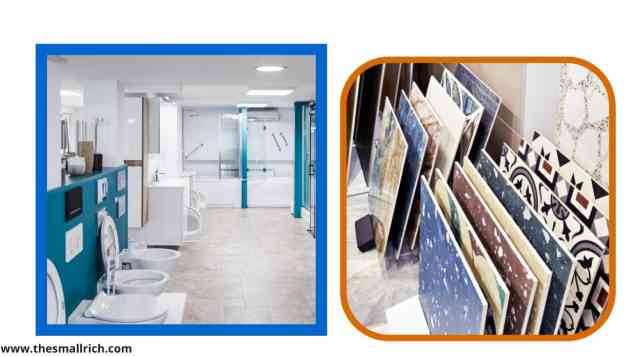 In developing countries starting a tiles shop business has a huge scope as the construction activities are rapidly growing the requirement can also be huge. Another USP of this business is, you are not just selling only one brand of tiles or ceramic material but, you are dealing with different brands that provide competitive profit margins depending upon your sales.
22. Cement Dealership Business
This is another reasonably profitable construction business that can be started with a decent investment. Here you are going to sell cement or ready-mix concrete for construction activities. All you required for this business, is to be a licensed seller a decent-sized ware house to store the cement bags, and a small truck to transport the required items to the customer.
Profitability in this business depends upon the number of bags sold and the profit margin you make by selling each bag. You can either work as a dealer for single-brand cement or establish an enterprise company and sell different types of cement brands; However, the latter require lot of investment and marketing
23. Hardware Store
This is one of the best start-up construction related business ideas for beginners. Tools and electrical equipment are mandatory for any house. You will be selling items like fasteners, building materials, hand tools, power tools, chains, locks, hinges, plumbing, and electricals supplies
if there is a growth of real estate in your locality this will be an added advantage to your business. as the clients would like to purchase the equipment at the nearest store.
a small hardware store can be started with $100,000 and a minimum space of about 2000 sq. ft and two workers. Profitability depends upon key aspects like Marketing, having the store located in a prime area, and wide range of products
24. Used Machinery Dealer
Machinery used for construction activities are built to last long. However, there can be performance reduction; but that shouldn't make them useless! The equipment used in construction such as excavators, power tools, farm equipment, and hard metals can be recycled or repaired and put to good use. Another side, there are also a good number of customers who would like to purchase the used machinery and use it for their needs
25. Steel Supplier
Starting a steel supplier dealership is another great idea if you have a budget and workforce. A Steel supplier sells a different variety of steel materials such as steel bars, steel sheets, TMT Bars, Bright Bars, galvanized sheets, Beams, and Steel Angles, etc., In this type of business, you either work as a dealer for one specific steel company or become an authorized stockiest of various steel manufacturing companies.
This is a business that requires a significant amount of money as the dealership itself costs high. However, the demand for steel is something that doesn't get declined easily as one way or another some kind of construction activity goes on.
These are some of the most profitable construction business ideas that we tried to put forth in a simple manner for you to get an idea. Although there are still a lot of them, we did our best to outline the most trending ones out in the market. Hope this information would help you in deciding your next business venture.