"Road less traveled business"- is best suited for those who want to start a heavy equipment business.
This is the business that needs fieldwork, time management, money, and more importantly patience. Why do I say this is "Road Less Travelled Business"? Because this is no-non-sensical business, just as monstrous as the machinery looks, the opportunities, projects, and Profits in this business are the same.
Heavy equipment Business is always linked to Construction and Logistics Industry. Growth in these two sectors will directly impact the Heavy equipment business.
Today, we are going to discuss How to start a Heavy Equipment Business and various business ideas one can get started as a heavy equipment machinery company. Before we get into the topic we need to understand what is Heavy Equipment's a.k.a Heavy equipment machinery.., Basically, these are machines that are used for construction and transportation work, and below is the list of those
Different Types of Heavy Equipment Used in the Construction and Transportation Industry
Excavators
Backhoe
Bull Dozers
Dragline Excavators
Graders
Trenchers
Wheel Tractor Scrappers
Loaders
Tower Cranes
Paver
Compactors
TeleHandlers
Feller Bunchers
Dump Trucks
Pile Boring and Driving Equipment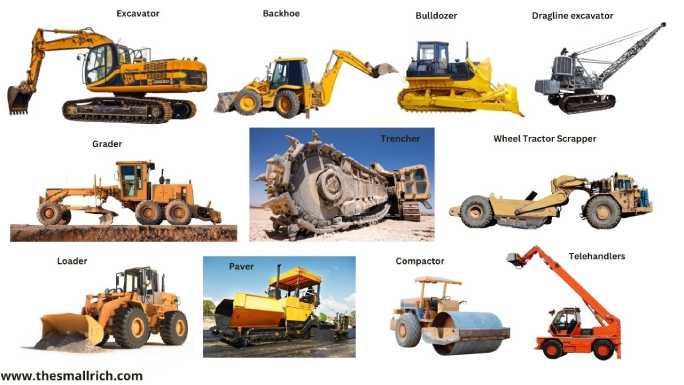 Business Plan to Start a Heavy Equipment Business
Starting a Heavy equipment business can be costly. However, the competition and the demand in this business are not too much. You will either have big players or experienced contractors who were running the market for several years. But, the opportunities in this market are so diverse that it can still provide a reasonable business for new ones. Moreover, if your city/town doesn't have this kind of business, then its the right time to consider starting a heavy equipment business
Let's analyze the Business plan in a simpler form to get a better understanding of this Business. we will go through each one of the below and see the possible outcomes.
Define the Scope of Your Business
Analyze the Market of the Business
Prepare an Estimation for the Budget
Identify Vendors
Procuring Equipment
Promoting your Business
Step 1: Define the Scope of Your Business
This is basically an overview of the aim of your company. If you haven't identified one yet. You can scroll down and see different business opportunities that we have in this business. for example, you can mention "To start a new Franchise of HITACHI equipment at your locality" or "To Establish a small-scale excavation company that specializes in Home property improvements". One you identified the goal for your business you then need to divide the goal into small parts which have a time frame and specific objective.
For EXAMPLE,
"To Establish a small-scale excavation company that specializes in Home property improvements."
In this scenario will breakdown the goal into small parts
Goal 1: Complete the market research of home excavation and identify the gaps.
Goal 2:  Identify the existing Competitors and their services
Goal 3: Write down the services that you can offer and provide your USP (Unique Selling Proposition)
Goal 4: Define the scale of operations are you going to expand your services to a wider audience? Or, would like to focus only on your locality?
Goal 5: Analyzing your inventory – you need to define the upfront costs, and future investments that you are going to spend on inventory.
Goal 6: Analyzing the output of each goal and see if you were able to achieve them as per your desired timeframe or Budget or as per the requirement that you have set.
Step 2: Analyze the Market of Your Business
Once you have identified the scope of your business; you need to research the market conditions of the business that you are going to start. Generally, the heavy equipment business is tied up with the construction market. Factors such as rapid urbanization, increasing infrastructure, and movement of the population to cities are some underlying factors that influence the heavy equipment business.
So, keeping in mind such factors one needs to carefully plan which kind of business is best suited for you.
Later, you have to analyze the existing competitors in the industry, their services, and their Pricing structure. You then have to specify which segment of the market you are going to target and if provide your USP; how you can offer better services when compared to your competitor. While doing market analysis you should be able to answer the following questions
What are the potential heavy equipment business ideas that I am capable of starting?
Who are my main competitors?
What is the demand for the services in the market?
How much a customer is willing to pay for my service?
My competitor's strengths and weakness
What are the potential problems that might affect my business?
Step 3: Preparing an Estimation Plan for the Budget
As mentioned earlier, business involving heavy equipment and machinery usually costs more. This can be due to several reasons such as the high cost of equipment, upfront costs, maintenance, and external factors such as an increase in oil prices, etc.,
You need to weigh in all such factors before preparing an estimation for the amount of funding you needed for the business
Step 4: Identify Vendors
This is the most important part of the business plan. In the Heavy equipment business, you will come across Big vendors such as JCB, Volvo, HITACHI, SANY, etc., who provide quality parts and services. It is important that you choose a vendor who fits your budget.
For example: – If you would like to start an excavation service – You need to first decide your budget, you need to analyze your specifications, then, decide which company has the excavators that suit your needs and fits your budget. Once that Is done, you then have to locate the dealer and review their customer service and then finally decide to buy one.
It is not just the excavators, but the other accessories which are important for heavy equipment also need to be carefully purchased from a selected vendor. As you are putting in a lot of amounts you need to make sure every penny you spend makes sense
Step 5: Buying Equipment
In the heavy equipment Business, you can either purchase brand-new machinery or used one. Both have their own pros and cons. However, used equipment also has high demand in this industry. If your budget is small you can go for used machinery and then later upgrade to new ones.
There are multiple buying options in the heavy equipment business, You can either pay full cash or choose to finance or even rent the equipment for a duration. The feasibility of financing or leasing out equipment suits those who were tight on cash where they can spend the saved amount on other business operations such as hiring workers and marketing
Step 6: Promoting Your Business
You cannot ignore the importance of marketing and promoting you're your business. There are a number of ways that you can market your heavy equipment business such as creating a brand identity such as having a logo, website, vehicle decals, business cards, distributing flyers, running ads in local radio stations or T.V
Make sure your business is listed on the Internet and provide all the important information where customers can contact you.
Business Ideas with Heavy Equipment
Here are some of the businesses that you can start with heavy equipment
1. Heavy Equipment Dealership
If you have a good amount of budget and space in your locality and if you see there is a growth of construction activity in your area, try taking a dealership of heavy construction equipment.
Depending upon your capacity try consulting the company and see if you can afford a dealership. There are tailored plans where you can afford a small showroom with few types of machinery and then slowly once your sales go up you can get more machinery at your showroom. But remember there are a few things to keep in mind when you were planning for a heavy equipment dealership such as the area should be near a motorway, it should have a good amount of space to accommodate the machines and for future expansion
2. Excavation Company
There are a lot of things you need to consider to start an excavation company. everybody knows Heavy equipment are mostly utilized for excavation activity. There are a lot of excavators that come in various capacities. As an excavation company, you can cater to different services such as residential projects, pipeline works, digging, site preparation, and trenching. This is one of the ideal businesses one can start with heavy equipment. However, the competition in this business is usually high making new business owners a little bit difficult to enter. However, when you have studied the market and done some leg work this can be an easy business
On average to start a small-scale excavation company you need an initial investment of around $200,000. A major part of the budget goes to buying an excavator, If you couldn't afford such a high amount you also have the option to lease the excavator
3. Foundation Services
This too does come under excavation services only, however, we have separated because laying a foundation for a home or project is complicated work that only an experienced excavation contractor can handle. Generally, there are three most common house foundations we see Full Basement, Crawl Space Foundation, and Concrete Slab foundation
On average, excavation work for a foundation costs around $3,500 to $13,000. The prices also vary depending upon the location of the site, size and weather conditions, and complexity of the work
Some of the Heavy equipment required for laying foundation work include Backhoe, Mini excavator and bulldozer
4. Logging Business
There is specialized heavy equipment such feller buncher that is designed for logging activity. They cut down large trees in forests or farms and grab them without falling, making the jobs for humans a little hassle-free.
If you were thinking to start a logging company then, you need to have heavy equipment such as a feller buncher, Harvester, Skidder, forwarders, Shovel logger, etc.,. The machinery required to start a logging business is quite expensive, in such cases consider renting this equipment on-demand basis in the initial stages, and then once you have enough money you purchase each one of them gradually
5. Mining
The extraction process of minerals requires Heavy machinery such as Excavators, Bulldozers, Heavy duty dump trucks, etc., Basically, Heavy equipment requirement is high in mining activity. You can either work as an operator or lease your equipment to a contract company.
6. Leveling and Grading
These two steps are important during construction. Grading is carried out before construction to prevent water from flowing toward the foundation. Leveling is done to make sure the foundation of the house or a site is leveled properly. Both of these works require heavy equipment such as Skid-steers loaders, Auto-levellers, Bulldozers.
7. Roads and Driveways Construction Business
Construction of roads and driveways not only require special skill set but also special machinery; if you know how to handle these projects and have heavy equipment such as Graders, Pavers, and dump trucks consider opting these business ideas.
8. Heavy Equipment Repairing Company
Fixing heavy equipment requires a special skill set, training, and extensive experience. If you have a team of experienced technicians you can start a heavy equipment repair company. You can either open an authorized service center for a single brand or start a repair shop that specializes in fixing different brand machines
9. Used Heavy equipment machinery Dealer
Starting a used heavy equipment machinery business is a lucrative idea. Used heavy equipment has high demand in the market when compared to new ones. They are not only cheap but function as well as new machines. Enabling the customers to save some money and put them to other uses.
Conclusion
There are generally, three ways to start a Heavy Equipment Business
Operator
Contractor
Dealer
When you work as an operator you were in charge of your business and machinery. for example, you can either purchase an excavator or start a small-scale excavation company. You either work independently or work for a contractor. This is suitable for those who were new to the business and had little capital.
In this type of business. you either get work on-demand basis or work under an existing contractor
second option is to work as a Contractor this is for those who are experienced in this industry and are capable of investing money. Usually, a contractor may or may not be in a position to operate the equipment. But will act as a source of machinery provider to other construction projects. They maintain a fleet of heavy equipment and then lease them out to third-party companies
Finally, we have a Dealer, one who owns a showroom selling heavy equipment. This type of business requires large capital, a workforce and an ample amount of space.