Starting an excavation business is all about dirt, sweat, and tough assignments. It is for those who were interested in making a business that gives high ROI at the cost of relentless hard work. Whether you were looking to start a small excavation company or aspiring to become a successful excavation contractor you need to have traits like time management, work dedication, patience, and great negotiation and money managing skills.
So, for those who want to get into the excavation business or grow as a successful excavation contractor you definitely need to consider the following information.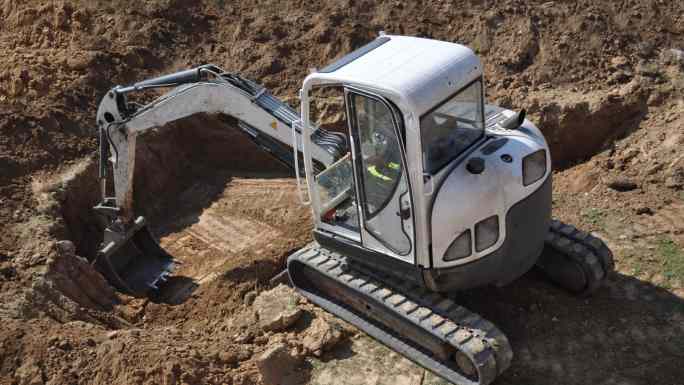 1. Investment – How Much Money Do I Need to Start an Excavation Company
This is the first thing that comes to mind when you think about how to start excavation business. To be frank, there is no specific answer to this question. The investment required to start an excavation company depends upon your business model.
For example, for starting a mini excavating business you need some basic machinery like a skid steer, backhoe loader, pick-up truck, and a few excavation tools like shovels, spade, pick ax, drilling machine, etc., which can cost about $1,50,000 in used condition and then you need licenses, business registration, insurances, fuel and ongoing maintenance which totals around $200,000 – $250,000 in initial stages.
a small excavation company may not afford such a huge amount hence most of them go for finance options where they repay the amount on a monthly basis or buy the equipment for a lease for a period of time
2. Registration, Licenses, and Permits – What do I need to Operate an Excavator
When it comes to paperwork, you would typically need common things like a business license, insurance plan, and EIN number for reporting taxes, etc.,
On other hand, to operate heavy machines like backhoes or bulldozers one must need to qualify for at least a high school diploma or GED Certification.
Basically, In order to operate a backhoe, you don't need a special license, However, If your job also involves transporting the backhoe to the construction site on the flatbed truck then you also need to get a commercial driving license (CDL)
You can also search on the internet where you can find institutes that teach you how to operate heavy machinery and provide certification. For example, the heavy equipment college of America has a Backhoe certification program that helps you to get into entry-level backhoe operator jobs.
In addition to that, getting an OSHA (Occupational Safety and Health Administration) Certified also adds value to your business as this shows how well you were versed in workplace safety and makes your clients feel comfortable
3. Developing an Excavation Business Plan – Gather Maximum Information
Any developing business or existing business in order to be successful need a well-defined business plan, some key elements in your excavation business plan should include information about your target customers, areas you will offer your services, pricing structure, details of your machinery, investment and sales forecast, marketing and promotion strategy
A well-defined business plan can help in getting bank loans or financial aid from third-party organizations.
Tips on developing an excavation business plan
Look for existing business owners and their services, write down what they were offering and what else you can do better than them
Collect multiple data about pricing structures from existing companies and see how you can offer a much better deal
Consult site managers or contractors and listen to their advice where you can get valuable information that you can include in your business plan
Approach marketing companies nearby your areas to help you in providing data about customer preferences and existing market trends with which you can develop a better sales and promotion strategy
4. Deciding Between Buying a Used Excavator Vs New One
When it comes to buying machinery for excavating business; buying used ones is the most popular option, as old machinery especially mini excavators or backhoe of 2- 5 years old cost almost 20 – 30% less than the new ones; for example, a used mini excavator costs around $25,000 to $40,000 whereas a brand new one costs about $75,000 – $100,000 so you can see the cost difference.
However, this doesn't mean you should not get new machinery; it has its own benefits, especially, new machines come with longer operating work hours like 8,000 – 10,000 hours and better maintenance and warranty coverage.
if you were buying an excavator which is like 2 years old that has worked for 2000 hours it might sell for 20% less than the original price which means you can save around 15-20K which can be spent on ongoing maintenance and buying other necessary equipment; However, one must carefully examine all the aspects before buying a used excavator
So, in conclusion, lets breakdown the Pros and Cons of Buying a used excavator vs New One
New Excavator Pros
Repairs and Maintenance come with better warranty and service options
Comes with better technology
Comes with longer operating workhours
Better fuel efficiency
suitable for longer projects and established firms
Cons of Buying a New Excavator
Can cost a significantly high amount
Most of the excavators have high up-front costs where you have to put an extra amount for buckets or attachments
Can be a financial burden for those who were newly starting excavation business
Depreciation of the new machine drops quickly after the first year which is one of the most common things in excavators
Used Excavators Pros
Cost significantly less almost 25% less than the original ones
A value-added asset for those who were newly getting into this business
Used excavators have a large market where you can choose from different brands and attachments
Cons of Used Excavators
Comes with fewer operating work hours
Usage history cannot be predicted accurately
Maintenance and repair costs can be slightly higher than the new ones
So, get a used excavator if you were newly starting into this business and budget, is a constraint, it's the best option for residential projects, small construction works, small digging works, and landscaping for homes.
Once your business started growing and clients were increasing, slowly work your way up and re-invest the money to get a new one. Remember, sticking to the old excavator is not always a good option as they were prone to breakdown, and you have to spend time servicing them, and remember time is precious as money in this business.
5. Preparing a Quotation for the Project – Key to Your Business Growth
Generally, Excavation companies charge at hourly rates which depend upon the complexity of the job and the type of excavator being used for the job.
Before a project price is agreed upon, the owner of the excavation company hands out a quotation to the client which includes a detailed breakdown of costs for each job.
Creating a quotation is one of the topmost essential skills one must develop to get into excavation business; you need to have a better documentation and listening skills when handing over the final quotation to the client.
One must remember that your quotation should make sense to the customers; although not all customers can read the details and question your pricing structure, they simply believe in you; so you need to maintain integrity in your pricing structure.
Quoting more than what sounds reasonable damage your company's reputation and customer doesn't call you back again. On other hand, if you made a wrong calculation at the initial stages and your quotation sounds less than the average market value you will end up in loss.
So, when you were getting into this business get data on how much other companies were charging for the job. Try to make a list of items and their current pricing structure and come up with a better quotation that makes your customer happy and keep coming back
6. Developing a Great Customer Experience – Maintain Transparency and On-time Delivery
Customer satisfaction plays an important role in excavating business. It helps you to promote your business and increase your clients.
Normally, excavation works generally cost higher hence customers expect that every penny they spent goes to work properly. If you mess around with something like damaging their property or leaving their site without cleaning around the dirt, customers can get really annoyed and stops calling you next time.
Be transparent about the job, this is the quintessential trait you need to have when dealing with clients. Generally, Excavation jobs are tiresome, it requires special skills and better planning, if you do not have enough time or equipment to complete the job within the given time, just tell it to the clients and ask them to extend the time frame or tell them what you can offer within your limits but do not lie, as this can only put your job in risk if you don't complete within in the given time
7. Maintaining a Loyal Crew – Your Employees are as Important as You
Skilled workers are very important for excavation business, as an owner, it is your responsibility that your crew gets paid well, trained well, and treated with respect.
When you successfully complete a project celebrate the success with your crew so that they not only feel happy but feel confident about companies progress and make them more accountable in their Job.
Just remember, experienced operators are rare and expensive so, try not to lose them an experienced operator is as important as you in delivering business they can complete the assigned job with minimal supervision.
8. Know Your Operating Costs and Keep Your Business Financially Stable in All Seasons
Excavation business includes a lot of operating costs such as repairs, worn outs, change of attachments, fuel charges and transportation of machinery to the job site, etc., the list goes on. And the worst thing is if you were unprepared, they can occur at any time. Hence you always need to be financially prepared to bear the operating costs.
There can be scenarios where you would get huge profits in one season, and very less projects in another season which means you either be idle or get the jobs rarely.
To overcome such scenarios, you need to prepare yourself to work for even such smaller projects that barely gives you profit. As it is better to make some money than nothing.
9. Take Your Time in Marketing and Promoting Business
You should spend some time and extra cash on marketing your business. Utilize all the possible channels such as Google, Facebook, LinkedIn and YouTube to market your company
As the excavation business mostly serves the real estate industry, which is highly focused in urban areas, there can be different companies already working in that area, so, in order to set your foot in such areas or make aware of your services you should also try to run ads, hand over business cards and advertise in local radio stations about your services, this will slowly improve your brand awareness and clients start to call you one day.
10. Diversify Your Services and Keep Learning
One last piece of advice for those who were starting excavation business is always try to diversify your services and serve at least three to four different areas.
As we already know most excavation companies focus on working for the larger construction industry in urban areas or work for minor residential projects. The only reason is these jobs give good profit margin plus it's easy to transport your machinery around the site as you will have good roads and moreover they were less complex.
But to grow as a successful contractor, you should diversify your portfolio and take jobs that test your planning and operation skills such as large landscaping projects, prepping for driveways, working in farmlands and forests in the countryside, and working for dams and reservoirs jobs. Such tough assignments are medals to your company where you can show your expertise in handling a job and attracting big clients.
Conclusion
Excavation business is completely a different field, it's expensive, unpredictable, and tougher! But you need to know the tougher the job the sweeter the profits. You need patience and strong determination to stay in this business. Always, keep an eye on expenses and overhead costs, and make sure your fleet is maintained properly at all times. Finally, when you were in the initial stages take advantage of any opportunity that comes your way and make sure you provide quality work and keep your customer happy.