Excavation Business is one of the most diversified fields in the construction industry with its services catering from small residential landscaping projects to larger projects such as power plants, gas pipelines, water dams, etc., If you were thinking about How to start a Excavation Business or looking for some vital information that can help you build small excavation company then this article can guide you through your journey
Before getting into this topic, you can also check out important tips to consider before starting excavating business so that you can get more familiarized with this topic
So, in this topic we are going to focus on aspects of starting a small excavation company or simply call it a mini excavating business and look at popular mini excavator business ideas that one can consider so the information, figures, or business plan is tailored according to it.
Steps involved in Starting Small Excavation Company
As said earlier, this information focuses on small businesses, so the requirements that were mentioned below is more inclined towards starting a small excavating company rather than a large established excavation company
1. Company Registration
The first step of setting an excavation company begins with registration process. Basically, company registration process is more or less common across all businesses. You need to decide how you are going to run the business-like sole proprietor, LLC, Corporation or Partnership.
You need to pick a catchy business name for your excavation company and make sure there is an availability of website domain under that name
Next, getting EIN (Employer Identification Number) or Business Tax ID for filing income taxes for your business. Although it is optional for some small businesses, it is still better to get one for future purposes. Moreover, EIN also helps during business loan and opening business bank account.
2. Getting Your Business Insured
Liability insurance is the most essential thing you need to have when operating an excavating company this type of insurance helps cover claims if in case there is any property damage or bodily injury occurred by your business.
In addition to the Liability Insurance here are some important insurance plans an excavation company owner should consider
Workers' compensation – covers employee Injury, medical Expenses
Commercial Auto insurance – Policy to cover vehicle vandalism and theft, property damage by your vehicle, medical expenses during accident
Professional Liability Insurance – protects the business if sued due to failures, negligence or not completing a project within time, etc.,
Commercial Contractor Equipment insurance – Also commonly known as the Tools and Equipment insurance helps to cover your tools if they were lost or damaged or stolen or even if they need to be repaired or need a replacement
3. Obtaining Excavation Surety Bond from State or Local Government Bodies
A surety bond is a three-party mutual agreement between the contractor, government, and surety company. Basically, a surety bond provides a financial guarantee that the contractor will provide his/her service upon agreed terms to the customer. As well as it ensures the contractor follows the state and local regulations while performing excavation services.
These bonds are of called with different names like excavation bond, demolition bonds or earth moving bonds. State government require excavation companies to obtain surety bond to get the permission to perform excavation. Although surety bonds are mostly issued by state government, In certain states these were carried out as per local government bodies.
The cost of excavation surety bond (i.e total bond amount) is generally set by the state and the surety company gives you the premium rate which is the percentage of the total bond amount you pay as premium
Typically, the premium costs ranges between 1-10% of the total bond amount
4. Licenses and Permits
In general, licenses and permits are mostly regulated by the state. However, some states required you to obtain certain permits and licensing from the local level.
When it comes to operating excavators, bull dozers or cranes a general driving license is mostly sufficient. However, if your job requires you to handle a heavy truck for hauling or carrying your excavator then you may need to have a Commercial Driving License (CDL)
Although not necessary but having certified as an excavator operator from a reputed training institutes can slightly increase your profile strength.
Excavation Contractor license – This license may or may not be required by every state. But in general, this is a contractor license that shows your experience and area of expertise. Certain states require contractor license to carry out excavation legally.
For example, to carryout services legally such as underground utility and excavation in state of Florida, you need to get a Florida contractor license which is governed by CILB construction industry licensing board
Generally, to be a certified contractor licenses you need to have work experience, financial stability (decent credit score) and high school or GED diploma.
5. Purchasing Machinery
In order to run a small excavation company. You need some decent machinery at your disposal. Which can include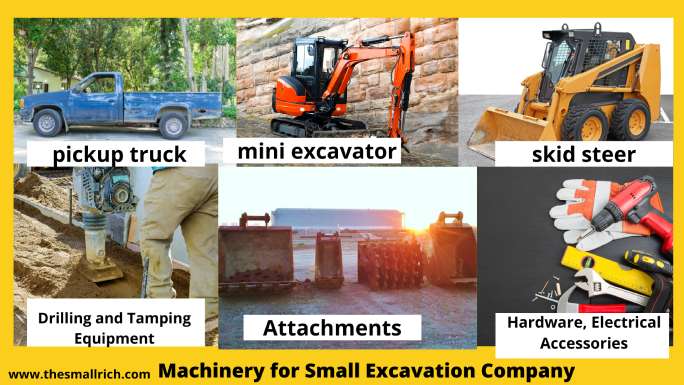 Pick-up truck with trailer – Used one can be around $35,000 – $38,000
Skid Steer – Used one can be around $28,000 – $40,000
Backhoe Loader – Used one can be around $35,000 – $55,000
Demolition and Tamping Equipment's – ~ $2,500
Excavator attachments such as rakes, buckets, Augers, and trenchers – ~ $1,500 – 2,500
Excavation equipments such as Heavy duty shovels, Chain saw, Drilling machines, Hammer, etc., if you weren't sure you can go through the list of construction equipment tools and equipment and make a note of missing items. – ~ $2,500
So, when we look at the above rough numbers the excavation equipment costs around $104,500 – $140,500.
In excavation business buying used equipment is most common thing. especially, if you were starting at a small scale or new to the business, its best to start off with some already used excavators rather than purchasing new one. However, used ones has certain limitations there can be breakdowns, servicing costs, decreased fuel efficiency but when compared to new one these costs are relatively manageable
While purchasing used excavator is a common thing, but one must ensure to prefer new attachments such as rakes, buckets or augers rather than used ones as these equipment's are key to excavation activities the better they are the more efficient you can do a task.
However, if your budget is tight, you can go with used attachments or get them on rental bases
6. Pricing Structure for Your Excavation Services
Competitive pricing is always the most preferred option for new and small businesses, Although, the profit margin you take home might be less. It is a significant method to gain customer base when you are at initial stages.
Practices like offering services little bit less expensive when compared to your competitors, providing additional services at an economical price range are some common things, waiving of inspection charges for new customers etc., are something you can look into
Basically, in excavation business a pricing structure depends on four things
Material cost
Labor cost
Type of area/land that is excavated
Total amount of Time spent on Job
Experience of the Contractor
Well, a basic concept in pricing of an excavation area is, total volume of excavation multiplied by excavation cost per unit
So, the overall charges go in this way,
Excavation cost = Price per unit area excavated + excavator charges + labor and service charges
For example, to dig a pit with 10 m3 dimension with a mini excavator having a bucket capacity of 0.03m3, it can take around 1 hour. Let us suppose, $3 as cost per cubic meter then for a 103 pit it costs around $30. Let us consider $120 for material, labor and hauling charges, hourly rate of an excavator operator as $20.
So, when we total the amount on average a simple excavation job could cost around $170 – $200.
In addition to that, Type of soil/area is also a significant factor that plays role in pricing structure. In general, a wet soil area is denser than dry soil hence it takes some effort and time to excavation which directly impacts the pricing structure also.
The total pricing of a job also depends on the experience of the contractor and quality of work. So, the more experienced and records of successful handling of projects the better are the chances of gaining a job with high profit.
7. Marketing Your Excavation Business
Marketing is key to successful business, and it is same to excavation business also. Though you might be on the field or road every day, you must ensure to spare some time to market your small excavation company
It is also important to note that a consistent quality work along with good marketing presence can grow your company's reputation and also help you in securing bids
According to an article posted by Alisa Bennett Vice President of Bennett Contracting, she explained 8 important tips for excavation marketing which are very insightful. Which we have added few of them below
Here are some tips to promote your excavation business
Setup your company profile in social media networks like Facebook page, LinkedIn and Quora
Participate in excavation expos and events, build connection with clients and manufacturers
Advertise frequently in your local newspaper, radio stations and T.V channels
Build connection with your peers in your area, share your idea
Create a website for your business and make sure it is user friendly and responsive, add posts about successfully completed projects
Establish a brand identity for your excavation company such as having your company logo on all your equipment, T-Shirts and things you put to work
Have a good-looking business card. You can either go to your local business card make or search online with term, "custom business cards for excavation business", We have found few options like VistaPrint.com their custom printed excavation business cards offers wide range of options to customize, add images, logos and text to your business card at the same time Zazzle.com also offers a wide range of excavation business cards with reasonable pricing
8. Growing into a Big Company, Securing Bids and Successfully Delivering the Projects
Although bidding might not be an easy catch for small excavation company it is something you can try to achieve once you have successfully grown. Bids are generally announced by Government projects or Big private companies who usually look after for more experienced contractors with capable workforce and machinery.
I order to secure a bid you must work hard, deliver projects successfully, be passionate for your work. And most importantly, you must be financially well versed with terms and practices.
Profitability in Starting Small Excavation Company and Mini Excavator Business Ideas
One can expect a decent profit on starting small excavation business the initial cost such as owning an excavator, insurance and registration, and other machinery purchases can cost around $150,000.
There are a lot of Mini excavator Business ideas that you can start with a single excavator such as land clearance, concrete breaking, landfills, small-scale residential projects such as sidewalks, trails, and payment paths. These jobs can earn you anywhere between $150-$200 and they can be done in just a few hours. Which gives you enough time to take extra jobs per day.
On other side, bigger projects such as making driveways (Asphalt), large scale Vegetation clearance, and site prep for new residential homes which includes (plumbing, trenching, sewer, gas line, and foundation works) can earn you anywhere between $1250 – $1500
If you can make $3500 – $4000 monthly your company can make $42,000 to $48,000 annually. Once you start making more projects and improve your business you can purchase more equipment and diversify your work to larger projects which can earn you between $5000 to $6000 monthly.
At certain times or season you may not find enough jobs to keep your company running, in such cases do not sit idle and wait for a job to show-up, you can go work for other contractors and take up jobs such as land surveying, providing consultation etc.,
Keep on thinking ways to keep your business up and running than sitting ideal. Once you are into excavation job you can also learn other minor things such as electrical works, plumbing, loading, and unloading of fills. These jobs can at least help you in covering minor expenses for your company