Waterproofing Business focuses on providing services that help prevent moisture formation on structures. It comprises various activities such as patching cracks, fixing water leakage from structures, installing drain systems, etc., Regular intervals of waterproofing can help prevent water from penetrating walls and ceiling thus, it can reduce the damage to the concrete. Some of the common types of waterproofing services include ceiling waterproofing, basement waterproofing, foundation, and exterior waterproofing.
In this article, you will get to know detailed aspects of this business, from business opportunities, profit margin, market scenario, business plan, and an example of profit value estimation
What are the Business Opportunities in Waterproofing Business?
Waterproofing business has significant opportunities in residential, industrial, and commercial sectors
When we look at the commercial aspect, areas such as factories, universities, hospitals, and shopping malls usually do the waterproofing service at a large scale which requires manpower, resources, and time So, they usually hire reputed waterproofing contract services. The profit margin for these types of jobs is usually high. However, in order to secure such contracts, a company needs to invest more and it should be in the business for a long time.
When it comes to household requirements, waterproofing businesses can expect a good market demand. Services like basement waterproofing, ceiling, and roof-top waterproofing are some of the popular residential waterproofing services.
In addition to the above-mentioned aspects, waterproofing is not just a one-time service, whether it is a house or a facility or a commercial building, waterproofing is done at least a few times in the lifetime of a structure which means, there is a chance of repetitive business.
Moreover, Seasonal aspects also have an influence on this business for example, tropical and sub-tropical regions where summers are usually hot and rainy seasons last for months can impact the construction with high humidity, cracks, and moisture formation, making waterproofing business a potential service in this regions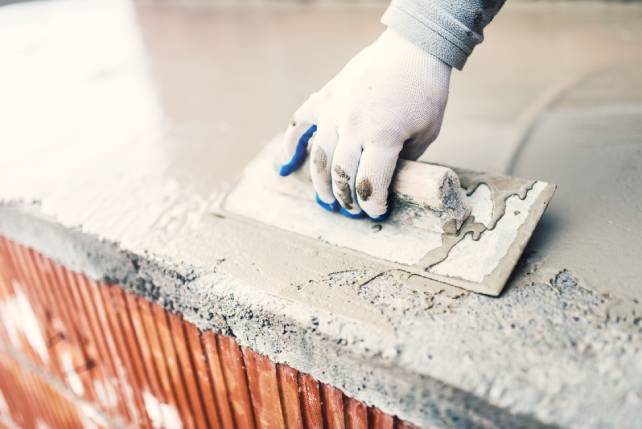 Market Scenario of Waterproofing Business
The Market scenario of the waterproofing industry is extensive and is divided into application, materials, and sectors. Several Market research reports show that the waterproofing industry is expected to grow at a significant rate in the upcoming years
According to a report, the global waterproofing market is valued at 57.4 billion in 2020 and is expected to reach 78.10 billion dollars by 2026 with a CAGR of 4.3%.
On other hand, another research report shows waterproofing membrane market is expected to register a CAGR of over 8% for the period of 2016 to 2026. Market trends show APAC and Middle-east regions as fastest growing areas in the waterproofing industry, this can be due to various reasons like growing population, industrialization, and increase in commercial infrastructure projects
When we break down the market by raw materials used in waterproofing services Bitumen, Epoxy, acrylic, PVC, TPO, HDPE, LDPE are some of the highly used waterproofing materials. Among them, Liquid membranes like Bituminous coating, Epoxy, Acrylic, and others led the market with 63.4% in 2020 due to their cost-effectiveness and easy installation. Whereas, Polyurethane liquid applied membranes are expected to grow at 9.5% in terms of revenue.
On other hand, PVC is more used for commercial roofing due to its less installation cost and easy applicability.
When we look at the usage wise waterproofing for roofs and walls took the major share in 2019 and is growing at a CAGR of 8.3%
In the North America region itself, roof waterproofing is worth around 2.5 USD billion in 2020
When we look at market share, the residential sector takes up the major stake in waterproofing business factors like growing population, affordable housing loans and desire for having an own house are some of the commonly seen factors contributing for this business, services like basement waterproofing, ceiling waterproofing, and drainage for new houses are some of the common things that would add up to a waterproofing contracts portfolio.
Commercial and Industrial sectors are also contributing to major growth in the waterproofing sector, areas like mining, wastewater treatment, factories, dams, and bridges are some of the key areas in this business.
Challenges In Waterproofing Business: Environmental, Human Health and Business Perspective
Environment and Human Health: Use of hazardous materials is one of the highly concerning aspects of the waterproofing business, the chemical components used in waterproofing materials are known to have an impact on humans and the environment.
When waterproofing is done via spray form the chemicals can cause damage to the respiratory organs of the workers if they were not wearing protective equipment.
Bitumen a petrol-derived waterproofing substance is highly used in roads, residential, and industrial sectors. In order for it to be used it needs to be heated which releases fumes that have some serious health hazards. The fumes produced can cause cough, irritation, headache, skin rashes, etc., long term exposure to bitumen may even cause stomach and lung cancer. Overall, it is quintessential for waterproofing contractors to make sure PPE and safety training is provided to the workers.
Business Perspective: The impact of COVID-19 had a serious effect on commercial and residential growth which impacted the waterproofing business significantly.
Growing raw material prices is also another challenge waterproofing businesses are currently facing. As major chemicals used in waterproofing are derivates of crude oil the fluctuating price of oil barrels has a direct impact on the price of the components. Moreover, the impact of pandemics on the shipping industry is another major reason for an overall increase in raw material prices.
How much Profit can we expect in Waterproofing Business?
Waterproofing contractors can expect a decent profit margin in the waterproofing business, As an example, if you charge $3 per square foot for a full-scale basement waterproofing of 1000 square foot it would cost $3000. If we consider 50% of this amount for the supplies and 30% for wages it sums up to $2400. This leaves you with a $600 profit at the end of the day. So, yes waterproofing business is considered a profitable business.
Another scenario…
Now, Let's assume you started a waterproofing business with $50,000 as initial capital. For a given year if you have done 10 contracts per month and a total of 120 per year which include full-scale waterproofing, minor repairs, and few commercial services, on average if you were able to make $450 ROI for the jobs done it would sum up to $54,000 per year which can cover your initial investment.
From next year, if you were able to expand your service and do 150 contracts per year with an ROI of $470 on average for all the jobs you will make around $70,000 per year which is significantly a good profit.
Profit Margin on Smaller Jobs: Sealing Cracks, Waterproof Painting, Dehumidifier, and Cement Flooring, etc.,
Profitability on smaller jobs is considerably good in the waterproofing business, assume a scenario, where the contractor needs to seal hairline cracks in the basement.
After inspecting the basement, the contractor quotes the fee for the job is $200 of which, the contractor spends $50 on the sealing repair kit and a few extra dollars on equipment for the work, $18 as an hourly wage for the worker, and $20 as hourly contractor rate. Now assume the job takes 2 hours to complete.
if we do the math, $36 goes for the worker, $50 on resources, and $40 for the contractor's wage which totals to $126. This leaves a $74 profit for the contractor. Now assume If the contractor can finish 4 such jobs per day, they can earn around $250 – $300 per day.
How Much does it Cost to Start a Waterproofing Business?
The capital required to start a waterproofing company depends upon the scale and services you offer. You can start a small-scale waterproofing company with $10,000 to $15,000 with 1 to 2 temporary or permeant workers. You can operate the business from home and provide minor services like sealing cracks, concrete foundations, painting surfaces, etc., these types of businesses mostly cater to residential zones.
Steps involved in Starting a Waterproofing Business
1. Creating a Business Plan
Business plan is the first and foremost important element for starting any business. This document contains all the important information on how you are going to run the business. A waterproofing business plan may contain details like services that you are going to offer, the equipment you would use, pricing structure, financial details, profit estimation, market analyses, and operating plan. A solid business plan outlines the goal and objectives of your company and steers you in the right direction.
2. Obtaining Licenses, Permits, Accreditations, and Certifications
Having necessary licenses, permits and certifications are important for running a waterproofing company. As this is a self-regulated industry and completely involves construction activities one must make sure their company, workers, or contractors have the right skill set, tools and were licensed.
In addition to that, getting industry-standard accreditations and certifications also increases the credibility of your company which can drive more customers. Accreditations like Better Business Bureau and certifications like Basement Health Association, NCFRS (National Certified Foundation Repair Specialist),  LEED (Leadership in Energy and Environmental Design), and other such professional accreditations can add value to your company.
Not only that, but you should also proactively seek membership in industry-leading associations to grow your connections. some noteworthy associations include the National Association of Home Builders(NAHB), National Roofing Contractors Association (NRCA), International Institute of Building enclosure consultants (IIBEC), SWR Institute
3. Getting Insurance
Having proper insurance coverage is important for a waterproofing business, it helps you to cover your business and protects you from liability if in case something goes wrong at work. Some of the common insurance policies like general liability and worker compensation are basic things a company needs to have if they work at client locations.
4. Creating an Operating Plan
In this phase, you need to create a plan that outlines different services and solutions your waterproofing company will offer. While implementing this phase, you need to thoroughly consider the strengths and weaknesses of your business. Factors like skill rate, workers availability, material and equipment, investment, and operating times are commonly decided in this phase.
5. Deciding Pricing Structure
In this phase, you will prepare a pricing plan for the services you offer, most waterproofing services charge on an hourly basis and the price differs based upon the size of the area in square foot, age of the building, and materials used.
While the charge per hour is standard, in most cases a contractor will first inspect the area and provide the final quote to the customer.
You should also decide what type of payment options you will accept and when and how additional costs will be charged to the customer.
6. Setting up Office and Inventory
You can either operate the business from home or rent a small office space which is good enough for a small team of 5 members including you. As most of the job will be on-field, you barely use the office except to store some files, meet with clients, and store inventory.
7. Purchasing Tools and Equipment for the Business
Waterproofing services require a lot of tools and equipment, ranging from blade floor scraper, tapes, torch heating kit, epoxy kits, adhesives, paint cans, paint brushes, caulking gun, etc., it is always a good idea to stock up extra inventory for general supplies.
8. Setting up a Dedicated website and Necessary software's to run the Business
Your waterproofing company needs a dedicated website where you can list out your services, provide timings of your business, customer chat feature, and location of your office.
To enhance your service and add value to your business you can also display customer success stories or testimonials on the website. Plus, you can also write blogs on various waterproofing related topics which can further increase your website's presence in internet search
When it comes to software's, getting accounting software helps you to keep track of financial aspects of your business such as payroll, expenses, customer payments, etc.,
Estimation of a Profit Margin Analysis in Waterproofing Business
Let us now consider a scenario of running a small-scale waterproofing company and analyze its profit margin.
Disclaimer
Please note, the values and descriptions mentioned below are just for informational purposes. Please do not take them for granted or use them to create a business report. We recommend that you reach out to a consultant who can provide better guidance in developing a business report
| | |
| --- | --- |
| Initial Founder capital | $20,000 |
| Bank Loan | $30,000 |
| Total Capital | $50,000 |
| Initial expenses | |
| Business registration, licenses, permits, insurance, paperwork | $5,000 |
| Yearly rent for small private office space | $4,100 |
| Office supplies (computer, chair, desk, printer, etc.,) | $3,500 |
| Website and software's | $350 |
| Cost of General Tools and Equipment for work | $1,200 |
| Vehicle maintenance | $1,000 |
| Other miscellaneous expenses | $750 |
| Total Expenses | $15,900 per year |
| Description of Jobs done per year |  Value |
| Full-scale waterproofing (20) | $50,000 (consider $2,500 charged on average for each job) |
| Minor works (sealing cracks, waterproof painting, etc.,) (45 no's) | $11,250 (consider $250 charged on average for each job) |
| Exterior and interior waterproofing (10's) | $20,000 (consider $2,000 is charged on average for each job) |
| crawl space encapsulation (5 no's) | $20,000 (consider $4,000 charged on average for each job) |
| Other miscellaneous works | $1,000 |
| Total Value of Jobs | $102,250 |
| Consider 30% for wages to workers | $30,000 |
| Initial expenses | $15,900 |
| * Approx. Bank Interest per year (6% for 5-year loan term with Annual compound APY) | $7,700 |
| Total | $53,600 |
| Total profit from the jobs completed | $48,650 ($53,600 – $100,000) |
Considering the above estimates, on average you could earn up to $48,000 per year from waterproofing business. Now, this amount may seem little, but some lucrative aspects of this business are, the initial investment is considerably less, it can be operated from home also, Initial Investment on office supplies (printers, computer, fax, tables, and chairs), and common hardware material will be significantly reduced in next year's budget.
Conclusion
The demand for waterproofing is going to increase over time, it is one of the recession-proof businesses with a wide variety of services that are essential to most residential and commercial buildings. Moreover, a waterproofing business adds more value, if its workers were certified and its business is accredited by prominent organizations.