Transportation Business is one of the largest businesses in the world. Catering opportunities to millions of people worldwide. There are numerous ways one can start a transportation business. In this article, we are going to discuss How to start a transportation business with one van and explore some profitable business ideas.
How Profitable Is It to Starting a Transportation Business Using a Van?
Starting a transportation business with a van is considered a small-scale investment and is easy to manage with just one person. It is also one of the most common transportation business ideas chosen by many entrepreneurs. Considering a minimal maintenance cost and a decent return on investment. It is widely adopted in tourism, small-scale logistics companies, passenger transportation, and rental business
What Are the Challenges Involved in Starting a Transportation Business with a Van
Just like any business, Starting a business with a van also involves some challenges such as..
Competition
The transportation business is already a saturated business. There are a lot of big players in this industry. There can be a lot of local as well as global companies competing for the market making it one of the challenging businesses to start. However, do not get depressed, there is a lot of opportunities as well as growth in this sector.
Upkeep Costs
You need to make sure your truck is well maintained during the business and for that, you need to set aside some budget. However, there are certain factors that may increase the upkeep cost of your van which include, an increase in gasoline prices, weathering of tires due to bad roads, and increased fuel consumption due to overload and traffic jams. All these can increase the upkeep cost of your business.
Delivery Challenges
One of the main challenges faced by many transportation owners is difficulty in delivering on time. This can be due to several reasons such as poor road connectivity, communication issues, and improper warehouse management. These internal as well as external problems might delay in delivery of goods to your customers, which might result in poor feedback on your delivery service that can indirectly impact your business
How to Start a Transportation Business with One Van – Business Plan
In order to start a transportation business, we need to have a business plan in place that provides insights on the feasibility of running the business. As our business runs on a single van, this can be considered a small-scale business. So, the below steps were tailored to open a transportation company with a low budget.
1. Conduct a Market Analysis of the Transport Industry in Your Area
Before you start the business, it is extremely important that you understand the current market scenario of the transportation industry in your area. This will give you information about existing competitors, prices, and demand for the service in your area. Once you get this information you can plan which type of transportation business you want to start and plan your budget accordingly.
2. Deciding on a Transportation Business to Start
Once you have were aware of market demands you should be able to decide which type of transport business is best suited for you. In general, there are two types of transportation business you can start with a van 1) people transportation and 2) Cargo or goods transportation.
Based on this, you need to prepare your budget plan, decide on a suitable van and get the necessary documents and permits to run the business.
3. Preparing a Business Plan
Once you have completed market research and decided on a niche, you now have to prepare a business plan that includes an executive summary, a description of your business service, budget details, and a marketing plan. You can also take the help of the internet! Just search for "Business Plan for Transportation company" and you will get a lot of templates that you can try out.
4. Choosing a Van for Your Transportation Company
Vans are generally categorized into two types, Cargo Van and Passenger Van.
Cargo Van
These Vans are suitable for transporting cargo, most of them will only have two seater capacity, with limited leg space, air conditioning and fewer features. However, they are easy to drive and park. They come with good storage space either with sliding doors or barn doors or tailgate.
They are most suitable for couriers, parcels, ambulance services,s and packers and movers businesses.
On average a new Cargo van can cost around $35,000 to $55,000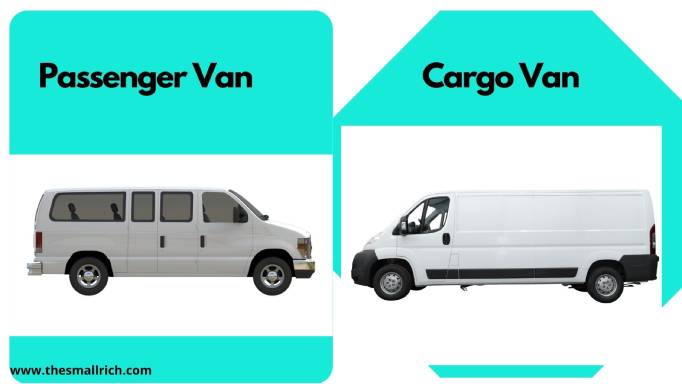 Passenger Van
These types of vans are common in the taxi and tourism industry. They look more or less similar to cargo vans but come with several seats to allow passengers to sit comfortably
These types of vans are highly seen operating for school transportation, tourist services, and pooled taxi service. One of the advantages of these vans is, the customer will be traveling with several groups of people often paying less when compared to booking an individual taxi service.
The cost of a passenger van will be around $30,000 to $50,000
5. Preparing a Budget Estimation for Starting a Transportation Company
You need to evaluate the investment required to start a transportation business with a van. Basically, as you are just starting the transportation business with just one van, it doesn't require a lot of investment. Most of the portion goes to purchasing the truck and obtaining permits and licenses. If you hire a driver then you may have to put some additional amount aside as monthly wage.
While you perform a budget estimation you include details like EMI for Van, monthly average maintenance cost, the average amount spent monthly for fuel, and other miscellaneous costs.
6. Getting Finance to Start Your Transportation Business
As discussed above the major portion of the amount that required to start this business goes into buying a van. There are plentiful financial services that can finance the amount required to purchase the truck and support your business. However, please note to cross-check with multiple services as you need to make sure the EMIs are not becoming overburdened to you.
7. Getting Necessary Licenses and Permits to Start the Business
You need to have a driving license as mandatory if you are driving the van. This is the most basic requirement. In addition to that, depending upon the type of transportation business that you chose you need to obtain certain permits from state or local authorities.
You also need to make sure your vehicle passes the fitness test especially if you are handling passengers, or delicate goods which require the vehicle to be in condition and the driver needs to have a certain degree of experience in such jobs.
8. Make Sure You Have Insurance
Insurance is necessary for both your business as well as your vehicle. Having insured will save you both financially and legally in some scenarios. Especially when you are handling precious cargo you need to ensure your vehicle as well as your company are always covered in case any adverse event occurs.
9. Acquiring Clients
There are several companies that you can start doing business with a single van. There are packers and movers, e-commerce companies, fruit and vegetable stores, and supermarkets that you can tie up with and start doing business with. Reach out to the companies, ask them if they require your service, and leave them a visiting card with a phone number and service details on it.
10. Marketing Your Business
You need to ensure your service is known to clients in your area. To do this, you need to market your business. You can follow some economical ways such as handing over business cards, distributing flyers to nearby markets and using WhatsApp to share your service details, and stickering your van with a contact number and service details to spread the word of mouth.
Ways To Make Your Transportation Business with One Van Profitable
Transportation business with a van has several lucrative opportunities, you have a lot of businesses that require the van service. However, it is extremely important to note that there is also a lot of competition in this sector and the already existing players have a good grip on the market. So how you can overcome such hurdles and make your one-van business profitable?
Here are a few effective methods to Make your One Van Transportation Business Profitable
Start aiming for a low competitive market in the initial stage of the business. Although the profit margin might be less, it helps you to get a grip on the business and understand the market condition
Offer competitive prices for your service. Again, in this method you may not get high-profit margin but, it helps you to acquire clients which are important in the initial stages of business
Make sure to put effort into marketing your business. Try all possible ways to get a word of mouth about your service
Always maintain your vehicle in good condition and track a record of every penny spent on your vehicle during maintenance and fueling
Make use of technology whenever possible. There are tools such as the Transportation Management System that helps you to track the moment of the vehicle, interact with customers, and follow up with the client. Such tools are especially beneficial when you are working with e-commerce companies or handling valuable cargo
Always plan and organize your day. It is important to note that, whatever jobs that you take must be delivered without fail or getting delayed. You also need to accept only the number of orders that you can deliver in a day. Taking too many jobs not only overburdens you but makes you feel sick at the end of the day
Always be polite and professional in your business. Treat the customer and client with the utmost respect. Try avoiding conflicts. Remember that this is your business and you should make sure it doesn't get failed.
How Much Can be Earned with One Van?
In the United States on average, a delivery van driver can make around $40,000 to $54,000 annually However, the earnings might differ depending upon the type of business, location, and experience of the driver. Certain jobs pay more for delivering goods especially if they are expedited service
Whereas, a van driver's salary in the U.K is £32,500
The average van driver salary in Canada is around $37,050
According to Indeed on average, a Van driver in India is paid 14,227 per month
15 Profitable Business Ideas That Can Be Started with Just One Van
There are plentiful businesses that can be started with a single van and here are some of the most profitable and popular ideas famous throughout the world
1. Ambulance Service
This is one of the most popular services you can start using in a van. There are several hospitals and Organizations that require ambulance drivers. It is also one of the most challenging as well as rewarded businesses that can be considered
2. Van Service to School Pick-up and Drop
Many of the schools require small transportation passenger vans to safely transport the children from home to school. You can reach out to the school management and talk with them about your service. You should note that safety, time management, and professional driving are very important in this service.
3. Food Delivery Transport Service
There are multiple restaurants and offices that require van service to deliver food to their location. Once the items were finished you just need to deliver them back to the kitchen. In this type of business, you will get paid daily or for the number of trips made.
4. Tie-up with E-Commerce Services
You already might have seen famous e-commerce services like AMAZON, eBay, Flipkart, and Alibaba have great demand in the market for their service there are millions of goods that get delivered to customers every day. You can tie up with their logistics division and provide your service
5. Tourist Transportation Service
Vans are famous in the tourism industry. They are preferred over normal cabs by individuals as they get charged less when compared to booking a private cab. You can tie up with hotels, restaurants, tours, and travel companies. You also start your own tourist business with just a single van and a small office space
6. Passenger Transport Service
This is one of the most preferred transportation business ideas you can start with the van. Pooled van services are most common in office zones, airports, metro stations, bus stations, and railway stations. Basically, these areas have a high movement of people and hence there is always a good demand for the service
7. Fruits and Vegetable Transportation
Transporting fruits and vegetables to local supermarkets from farms and villages is another job that you can start with your cargo van. This is a job that requires you to operate your van in the early morning.
8. Transporting Dairy Products
Across the globe, Vans are most preferred to transport milk products to cities and towns from farms daily. This is one of the services that you can start to think of. You can tie up with local farm owners, dairy companies, and supermarkets
9. Mobile Library Service
Certain educational societies or universities or book publishing companies use vans with extra space as mobile library units to help reach rural areas or places where people can read, borrow and purchase books. In recent days, this type of service is slowly fading as people are preferring digital sources to paper. Hence there are fewer opportunities in this business. However, you can check whether this idea might work for you.
10. Courier Service
Giants like FedEx, UPS, and DHL have demand and supply throughout the world. In the same way, there might be several big companies operating locally and nationwide in any country. You can tie up with such logistic companies and start your business.
11. Refrigerated Cargo Van
Insulated trucks or vans service is used to transport seafood, fruits, and vegetables as well as certain medicines. There is also a decent amount of profit that you can earn from this business. But you must remember that the vehicle might consume extra fuel and may slightly have extra maintenance costs than normal vans due to the refrigerator system.
12. Food Truck
The demand for food trucks is at high in recent years. This is one of the most lucrative businesses that you can consider starting. However, you must customize your truck to make sure the kitchen fits in properly. At the same time, there are certain permits that you may have to check with local authorities before starting this business
13. Service Utility Vehicle
These are customized vans that are used for various purposes such as transporting construction material, as a patrolling vehicles, and as a maintenance vehicle, etc., they were used exclusively by automobile showrooms, construction sites, and remote areas
14. Packers and Movers
This is one of the most popular businesses one can start with one van transportation. By the use of a cargo van, you can start a small packers and movers company and help in shifting homes or work for furniture stores to deliver items to the customers
15. Cleaning Services
You can also start a small-scale cleaning service with your van. With ample space in your van, you can fit all the necessary equipment required to clean homes and commercial areas. You also customize your vehicle to fit a ladder that you can use for gutter cleaning.
Conclusion
Starting a transportation business with a single van is not a big deal. It requires less investment and you don't need to rent an office space, you have plenty of opportunities around the city or town and even in the countryside. However, you should have full work dedication when you were in the transportation business. Traits like trust, time management, and professionalism are important in this business. You should also take ample rest and good food when you were in this business; as you will be traveling all day long you should be healthy enough to work the next day without any fatigue