Garment Exports Business is one of the largest business sectors of India contributing a fair share to India's GDP. According to a report, India is the sixth largest exporter of textiles and apparel products after leading nations like China, the EU, Bangladesh, Vietnam, and Turkey.
Just like Food and Water, Clothing is also one of the essential commodities to humans, making it one of the most traded products around the world
The Import and export clothing business is not just new to India; the roots of the Indian textile industry can be dated back to Mauryan Empire. However, the significant transformation in trade, as well as technology, started during the colonial period
At one point in 17th century Indian cotton textiles accounted for 25% of East India Company Imports
So, today we are going to discuss Why to start and How to Start Garment Export Business and look at the profitable aspects and market conditions prevailing in this industry.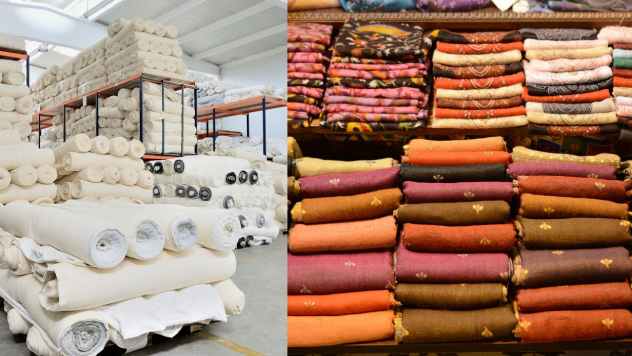 Profitable Aspects of Starting a Garments Export Business in India
The diversity of the Indian population as well as climatic conditions makes India's textile industry a thriving one. We can see various types of clothing from North to South and East to West. You will find a wide variety of dressing styles such as Lungis, Sarees, Kurthas, Patiala Suits, Langotas etc., and then you have a huge base for Shirts, Jeans, Sweaters, Knitted Clothes, and Jackets. So, the diverse dressing habits and huge population makes India one of the leading countries for the Textile Industry
As there is a huge mix-up of cultural aspects as well as demand, India has easily adapted to become a key player in exporting as well as importing garments to the world.
The availability of abundant raw materials and an economical workforce are some of the major factors making India one of the leading Exporters of Textiles around the world. In addition to the above said here are some considerable reasons why one should start a garments export business in India
Availability of diverse quality fibers such as Cotton, Silk, Jute, Linen, and Wool
Government-backed bodies such as AEPC provide assistance with various incentives and allowances to support your business operations
Advantage of skilled workforce and economical production costs
Various integrated Textile parks around India has several polices in place that facilitate import and export of your goods
Easy access to transportation
Indian Garments textile has huge demand in countries like the USA, UAE, UK, Germany, Spain, Italy, and China
Business Plan to Start Garments Export Business
Let's go through the steps involved in starting clothes export business
1. Register Your Company
The first step in starting a garments export business starts with registering your company. You can register your business as a sole proprietary ship, partnership, LLP, or Private Limited company
When you are registering your company ensure the name of your company resembles a textiles company or clothing company. Next, approach a designer who can make an attractive logo for your business
2. Opening Bank Account
The second step in setting up this business includes opening a bank account that has the provision to accept foreign currency. This is important to be checked while opening a bank account because you will receive/send transactions to other countries. There are several banks in India, that provide different account options for Importing and exporting business
3. Obtain Licenses and Permits for Garment Export Business
There are some recommended licenses and documents that you need to have to start a garments export business such as
PAN (Permanent Account Number)
IEC Number (Importer – Exporter Code)
Business Registration
RCMC for Textile and Apparel – Registration-Cum-Membership Certificate (RCMC)
 Certificate of GST Registration
MSME or Udyam registration – if your company falls under small and medium-sized business
4. Creating an Export Strategy
When you were in the garments trading business, you need to have a strategy to import and export the garments. This plan outlines the strategies and steps that your textile company ensures to grow its sales. Although in the initial stages, you might not have a standard plan, you can still create a draft document with the initial resources and findings that you came across
Some of the elements that you need to include in your export strategy include
Identify key countries to which you would like to export the garments.
Identify the current competition existing for that country and compare it with your current business potential.
Ensure the item that you were trading is complying with the government rules.
Prepare a list of prospective buyers and follow up with them for the requirements.
Ensure your product quality meets the buyer's requirements.
Determine the mode of transportation of the goods
Ensure the stock is always ready; Do not over produce nor, under produce
5. Planning Your Finance
One must have a clear idea of how to handle the financial part of the garments export business. You need to analyze several factors when preparing a budget or applying for a loan
Several Banks, Financial institutions, and foreign trade financing companies provide financial assistance such as pre and post-shipment finance, lines of credit and foreign currency loans, etc.,
In addition to the manufacturing cost, you have to have a detailed financial plan for exporting part of the business, as you will be dealing with different traders and exporters from other countries who have their own set of rules and regulations on currency exchange, method of transferring money and timelines, etc.,
6. Deciding Your Product Line
The crucial step in the garments exports business not only lies in choosing a profitable product but to design according to the country that you are going to export
Some countries have more demand for readymade garments, But few others have demand for cloth material. When it comes to ready-made garments such as cotton shirts, Denim Jeans, and Trousers are highly exported products from India
Whereas certain buyers required only cloth material such as Cotton, Yarn, Wool Silk, etc.
When you are making readymade garments, you should also pay attention to the various clothing sizes and design according to the customer preferences. The clothing sizes vary from country to country so you should check the chart and manufacture the clothes accordingly
So, when you got a prospective buyer look out for their requirements and prioritize the production and Quality of that material
To maximize the efficiency of your product line and make it more profitable try gathering market data of the customer preferences in the country that you are going to export
7. Setting up the Production line and Recruiting Workers
Once you have done the groundwork and are aware of the requirements for the garments export business, its time that you set-up a manufacturing unit for your clothing business and hire workers
In general, you can decide two ways of operating the industry
You can tie up with a clothing company to design garments according to your requirement and then you will stock them up in your warehouse and ship them when you get an order
Or, You would set-up your own manufacturing unit, Install machinery, buy raw material from traders and start producing garments as per the market
Each of them has its own pros and cons. The first method is more suitable if you were new to the market and like to start a business with less investment. While the second one is more suitable for those who are experienced and have high investment capability
At this stage you should also think about two important things a) the Location of Unit b) the Workforce
Location of the Unit
You should think about two factors while deciding to set-up the facility.
Option A: If you were manufacturing the textile all by yourself; then you should look out following things
States that provide incentives for textile manufacturing plants
States that have Textile parks – These SEZs come with a wide variety of Government incentives
Ensure there is an abundant workforce
Availability of raw material supply such as cotton, silk, wool, polyester, etc., are within the proximity
State and National Highway connectivity
Ease of Exporting facility – Nearer to the coastal area, Connectivity to Road if exporting via road to other countries
Option B: If you were a trader and exporting the garments to other counties, you usually require a warehouse. In such scenarios, you should look into the following things when deciding the location
Give preference to proximity to Airports, Highways, and Sea Ports – This ensures quick delivery to destinations and reduced transportation costs
Availability of transportation services
Ensure the rent rates and Taxes are within your budget
Availability of Workforce
Availability of Fire Safety, Medical, and other safety services are within reach.
Workforce
A combination of the skilled and un-skilled workforce is necessary when you were operating the garments business. This diversity ensures there will be a balance in operations
Skilled employees:- Should have knowledge of Management practices, Financial aspects as well as Technicalities of the work area. They can be floor managers, Technicians, MBA Graduates, or those who came from textile education background such as Textile designers and Textile Engineers
Unskilled Employees:- Are trained on basic skills that are required to perform works such as sewing, working as per assembly line, stitching, cleaning, sorting, inspecting, etc.,
8. Sourcing of Raw Material
It is important that you do thorough research before selecting a vendor to source the raw materials. Because once you have decided to start a business with a vendor you will put up a large investment and needs to continue to do business with them for a long time
You can make a thorough research by contacting several vendors, visiting their unit, and noting down their pricing structure, quality, and offers, etc., this will not only get you a better deal but also helps in managing the financial aspect of the business
9. Reaching Out to Garment Traders
In order to market the garments to other countries you need to get in touch with several garment buyers and buying leads.
You can get a list of buyers and trader's contact information through several websites such as India Mart, Alibaba, Just Dial, and several B2B e-commerce portals
There are also several associations in India such as GEMA, GEAR, and CMAI that bring together different clothing business owners together in and help in providing solutions, market insights, and discussing problems, etc., Try joining such communities for better connectivity
10. Marketing Your Garment Export Business
The competition in the garments export business is usually high in India. There are already several established brands that have a base in other countries.
In order to sustain the competition as well as get your company noticed by prospective buyers you should try to implement all sorts of ideal marketing methods such as
Listing your company on the internet – You can list your company in Just Dial, Yellow Pages, etc.,
Create a website for your company that has all the important information such as contact information, location of your store, and product catalog along with high-quality images, etc.,
Use a WhatsApp Business account for order-related queries.
Ensure you have the option to take online orders.
Join export communities
Whenever, possible try to attend International tradeshows, seminars, and garment expos. This will help you to get in touch with different owners and gain information about the clothing industry
11. Find an Ideal Logistics Company to Transport Your Goods
This is quite underestimated aspect of the garments export business. In order to deliver your goods to your destination or receive raw materials to your unit you definitely need to have a logistics partner that you can count on
Here are a few things you need to look at when finding a logistics partner
Customer service
Company reputation and experience
Areas of expertise
Vehicle Visibility and Tracking options.
Economic pricing
Easy booking and availability
Ability to safely deliver the goods