The rise in urbanization and growing businesses are two major factors for the growth of commercial cleaning business. The impact of pandemic covid 19 had future increased the demand for cleaning services. Growing awareness on hygiene and preventing future outbreaks; several offices and commercial places were making sure to sanitize their premises more often thus creating more opportunities and employment in this business
What is a Commercial Cleaning Business? and How it is Different From a Normal Cleaning Service?
Commercial cleaning also sometimes referred to as corporate cleaning service provides a wide range of cleaning services on a commercial scale. It provides janitorial services, building maintenance service, pest control, and sanitization activities for offices, hotels, institutions, stadiums, etc. They also bid contracts for catering government offices and commercial spaces.
Whereas, a normal cleaning service provides service at a small-scale level. This normally includes housekeepers who take care of cleaning houses, condos, and apartments. Their services include house cleaning, carpet cleaning, washing windows, dusting, and taking care of garden areas.
In short, a corporate cleaning service provides services in a commercial scale and they also train their workers on various cleaning procedures.
If you were thinking to start a small scale commercial cleaning business from scratch then these 10 steps will guide you.
Step#1. Creating a Business Plan
A Business plan provides a clear idea of the aims and objectives of your cleaning company. A well-documented business plan will help you to stay focused on the target and drives profitable decisions.
Here are some steps involved in creating a business plan for a commercial cleaning company
First, write a clear executive summary about your cleaning business. In this part, you need to provide an overview of your business, like the name of your company, contact details, and what type of services you are trying to provide. Remember don't make it too long. Just make it short and concise. It should be easy to understand.
Mention how you will run the business (partnership or sole proprietorship or LLC etc.)
Write down the aim of your cleaning business – here you need to mention the mission statement. (Your mission statement should tell what your cleaning business is about and how it makes a difference)
Write down the details of how you operate. Whether it's home-based or rental space and your working hours.
Write down an estimated expenditure on equipment, cleaning supplies, building, estimated daily costs, logistics, overhead costs, and workers.
Details about funding and sources from where you will obtain money for running your business.
Mention your unique selling proposition (USP), this is where you will mention how your business is unique from your competitors.
Information about your pricing model. Here you can mention how much you will charge for your service.
Forecast of profits and losses for upcoming years. Normally most business makes a forecast for 2 to 5 years.
Mention your marketing strategy. You can either create one by yourself or approach local marketing agencies.
Step#2. Deciding Between Franchise and Self Owned
In commercial cleaning business, franchise based model is the most popular one. Being one of the highly competitive industries it is quite difficult for a new company to establish its mark in this type of business. Hence most prefer to operate under a franchise. In addition, it takes a lot of investment to start a commercial cleaning company which makes it harder for small businesses or startups to enter this segment.
Taking into account such scenarios franchise-owned business is the most suitable option in the commercial cleaning business.
In this type of model, you have to pay some initial amount to buy the rights and then pay an ongoing fee which is generally a percentage of your revenue.
Here are some benefits and downsides of choosing a franchise business
Benefits
You already have an operating procedure on how to run the business.
Access to professional training.
Be a part of an established company.
All the resources required for marketing are mostly provided by the franchisor.
Support staff to guide you in every aspect of the business.
Downsides
Require high Initial investment
You need to follow a lot of rules.
You cannot sell at your own rates.
You can only buy supplies that were mentioned by your franchiser.
You have to be prepared if your franchise reputation is compromised.
Here is the list of popular commercial cleaning company franchises and their franchise rates
Advice to Readers
Please note the below values may change over time and may not be reflected here; request to please check or contact the official companies regarding the franchise rates
| | | |
| --- | --- | --- |
| Company | Initial Investment | Royalty Fee |
| Jan Pro | $3,985 – $51,105 | 10% |
| VANGAURD Cleaning Systems | $5,500 – $36,600 | 11.5% |
| Building Stars | 2,245 – 53,200 | 10% |
| StratusBuidingSolutions | $4,350 – $72,850 | 5% |
| CleanNetUSA | $6,655 – $92,950 | 5% |
| ServiceMasterClean | $93,185 – $299,010 | 7 – 10% |
If you want to start a Self Owned Commerical Cleaning service then…
If you feel like you want to start your own commercial cleaning company rather than working for a franchise you need to be prepared to deal with lot of things from buying supplies, planning, marketing, hiring workers, giving professional training, etc.
Of course, It can be a hectic task every day. But if you were able to overcome and achieve your target, you will surely love this business.
Here are some resources for those who like to start their own cleaning company
ISSA is a top-notch association that provides industry-leading certification on various programs. Their certification programs were recognized as the industry standard.
More than 9300 manufacturers and distributors were part of ISSA membership. Having their membership gives you an exclusive opportunity to their resources as well as connect with cleaning industry experts and manufacturers during their tradeshows.
source:ISSA.com
Aimed to grow those who want to start their own cleaning business, janitorial store is one of the best places to learn how to scale a commercial cleaning business. They provide the following services
Training programs
E-Books
Webinars
Certification programs
Free resources
source: TheJanitorialStore
Swept is a software platform exclusively made for cleaning business. It helps to communicate with your clients and cleaners, manage your supplies, provides time tracking and payroll reporting features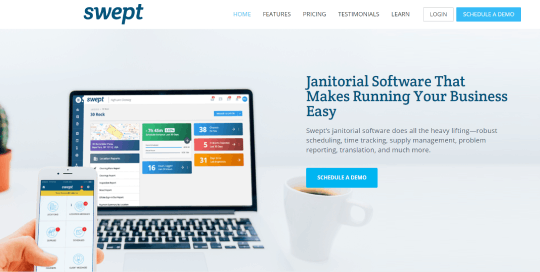 source:sweptworks.com
FreshOps is another software that helps cleaning businesses by providing features like time management, tracking team attendance and productivity as well as scheduling and rostering options.
Source:getfreshops.com
Step#3. Choosing a Legal Entity
The next step in your business is to choose the legal entity. Here you need to decide how you want to register your business. Here are the most commonly chosen legal entities for businesses.
Sole Proprietorship
Limited Liability Company (LLC)
Corporation
Step#4. Choosing a Name for Your Business
You need to have a good name for your business. it would be better if it is short and catchy. Just look at today's most new businesses that are easy to remember and pronounce.
Make sure to include words that relate to your business, for example, take JanPro, the word Jan can be understood as a short form for the word Janitorial and Pro refers to an expert. This is not only easy to remember but also tells what their business is about in a single word.
If you were struggling with a name you can try using a Business name generator, there are plenty of them online. Once you find a name make sure to register a domain under it.
When you are officially registering a business name you should also check with the type of legal entity that your business is going to register.
For example, businesses registering under LLC need to follow certain legal requirements while naming process.
Step#5. Opening a Bank Account
You need to have a separate bank account for your business. Having a separate business account will prevent your business funds from mixing with personal funds.
a proper record of your business transactions helps you to effectively manage funds and make realistic budget plans for your business.
For sole proprietorship, it is not mandatory to have a separate business account but having one would help you to manage your finances more easily. Whereas, for LLC or Corporations, you are required to have a separate business account.
Step#6. Insurance and Legal Requirements
In a corporate cleaning business, you need to make sure that your business is always safeguarded. There might be situations like damage to the client's property, accidents to workers, or claims from your cleaning crew.
To withstand such claims, an insurance plan helps you, your business, and your workers. Here are some of the most common insurance types
Public Liability Insurance
This is the most basic and important policy that every cleaning business needs. This policy protects you from the claims made by clients or third parties in case of bodily injury, accident, or damage to the property.
Employers liability insurance
The second most important policy for a commercial cleaning business is to make sure to have employer's liability insurance. If one of your cleaning crew gets injured or becomes ill whilst working for you then this insurance covers the claims made by your employee.
Business Owners Policy (BOP)
A BOP insurance is a combination of business property and liability insurance. Basically, it is an all-in-one package type of insurance plan that covers theft, lawsuits, loss of income, damage to the client's property, or your own business.
As a small scale cleaning business owner, taking a Business Owners Policy is the best option because you don't have to buy a separate policy for your commercial property and liability insurance.
However, BOP costs you a bit more than normal insurance where the annual premium price ranges may range from $800 – $1000.
Commercial Vehicle Insurance
cleaning businesses generally require a vehicle for transporting your cleaning crew. Having vehicle insurance ensures that your vehicle is covered in scenarios of accidents or damages. A commercial vehicle insurance premium ranges from $1500 to $ 2500.
Step#7. Figure out your Service Rates
You need to decide how much you are going to charge for your services. This is where you need to be extra careful because it shows the major difference between yourself and your competitors.
If you charge too low you may end up in loss whereas, if you charge too much you may lose the overall contract itself. So you need to pay special attention while preparing a pricing structure.
Generally, commercial cleaning business service rates are normally broken down into the following types
Hourly Rate: This is the most common type of service rate model. Where you will charge your customer per hour. The hourly rate for cleaning offices ranges from $15 to $30 per hour.
Per Square Foot: Most of the commercial cleaning done for offices or commercial spaces is charged based upon the square Foot. On average, a commercial cleaning per square foot ranges from $0.09 to $0.15 / Sq.Ft.
Number of cleaning tasks: Besides normal cleaning like sweeping and picking up garbage. Cleaning companies also charge depending on the type of cleaning tasks such as air ducts cleaning, carpet cleaning, polishing, cleaning rust, and other appliance-specific cleaning.
Monthly Contract
Monthly contract service is a long term model opted by major corporate companies and retails units. Here your client mostly requires the same kind of service on monthly basis. Here your client may expect some discount on the pricing.
Step#8. Preparing a Budget Plan
Budget planning is the quintessential part of every business. This is where one needs to pay special attention. While planning you need to consider several things that can influence your business. The more factors that you can think of the better you will be at managing the budget.
Here are some tips on how to take care of your budget
Tip#1. Buy Supplies Wisely
It is very easy to overspend on cleaning supplies in the initial stages of the business. Especially, one becomes easily attracted to try cleaners and equipment as soon as they arrive in markets.
Pay attention when you are buying something. For example, some cleaning agents may have harsh chemicals that don't fit for cleaning certain areas, whereas, some cleaners are very mild that they cannot be used on tough stains. So you need to think of yourself what type of supplies works best for your service rather than buying without any idea.
Tip#2. Do not Spend All your Money
It can be lucrative to use all of your money to make your business successful in the initial stages. However, that's not the correct way of making a budget plan. At all costs set aside some money for your own needs.
Tip#3. Make Monthly Reviews of your Budget
At all costs make sure to review your business on monthly basis. This is the best practice followed from small businesses to MNC's.
Making monthly reviews helps to plan your budget more effectively by giving better insights into your expenses. For example, cleaning companies may expect slight demand during spring cleaning whereas, it will be back to normal in other seasons.
With proper budget planning, you know how to be prepared for such seasonal timings
Tip#4. Take your Time in Coming up with a Proper Pricing Structure
Pricing for your services plays a very important role in deciding your budget. A well-planned pricing structure can balance your expenditures as well as attract potential clients further growing your business.
Without a proper pricing structure, you are not only losing customers but also piling up your loan, if your business is funded.
Tip#5. Approach a Cleaning Consultant
If you are not sure how to plan your budget, it's time that you consult a professional to seek their advice. A Cleaning consultant can help you to figure out expenses, recommend supplies, and how to manage your expenditure and work.
Step#9. Obtaining Supplies and Resources
In a commercial cleaning business, you need to invest money in purchasing different kinds of supplies and equipment. As every cleaning job is different you need to buy a variety of cleaning agents and equipment as per the job.
For example, a carpet cleaning job requires cleaning agents and equipment that are different from normal cleaning, in the same way cleaning electronic appliances requires a different set of supplies.
keeping in mind such scenarios you need to have a stock of all the necessary supplies ready for the job.
Commercial Vehicle
In cleaning business having a van or small truck is essential for carrying day-to-day business. While purchasing a vehicle you need to keep two things in mind, the capacity to store your cleaning equipment as well as the size of your crew.
In general, if you provide service for small scale offices or mid size supermarkets then getting an economical cargo van is sufficient. Price ranges between $25,000 to $35,000.
Once you get your van make sure to improve its aesthetics by having a company logo and contact details this serves as an advertising option. Also, make sure to get an insurance plan for your vehicle.
Employees
You need to have at least two employees for running a small scale commercial cleaning business. Where one would be clearing the chores the other one would mix the chemicals and get the things ready for cleaning.
On other side, you can take care of the administrative part.
It's up to you whether you choose part-time or full-time workers but make sure you have at least two workers for a janitorial and carpet cleaning business.
Remember in commercial cleaning business, finishing the job within time is as important as gaining customer satisfaction. Taking more time than average means you are blocking someone's work.
Deciding a Location
There are two options to start a cleaning business. you can either choose to set up a home based business or rent a commercial space.
While looking for a commercial space you need a reception area to handle administrative works, a storage area for supplies and equipment, and a small area for carrying out miscellaneous works. Also, look for a decent parking area for your van.
You don't need to rent in a high end commercial zone, just make sure offices and supermarkets are within reachable distance from your location. This will help you to reach within time and save money on fuel.
Step#10. Marketing Strategy For Cleaning Business
There are several ways that you can market your cleaning service. Starting from traditional ways like displaying a banner at important locations, giving ads on TV or radio stations, using flyers at the right place.
Another budget friendly way is to leave behind a small gift to your clients like a pen, calendar, sticky notes and magnets but make sure your company logo is printed on them.
Next, make use of online marketing platforms to promote your business.
You can create a social profile on your business and asks your colleagues to like and share the posts for those who were in need.
create a website and start writing articles in the blog section.
Join groups and discussion forms
Ask your clients to give testimonials and display them on your website
Promote your business by giving online ads.
Conclusion
The above mentioned steps are only one side of the coin. The next big part is on you; to carefully plan each and every part of your business. Remember normal cleaning service is different than doing commercial cleaning it involves working in the office environment and commercial areas
if things go wrong your company reputation also goes down. In the same way, if your client is satisfied with your service you will have better chances of recommending your company to other businesses too. So keep in mind every client is important in the cleaning business.
Last thing, As an owner it is your responsibility to give detailed instructions about the job to your cleaning crew, train them well, stock up supplies before the day. Making sure to provide aprons and PPE's to your workers and finally don't forget to service your van promptly.