For Small businesses, creativity is the major driving force in attracting customers and promoting their products.
Today we are going to see some of the top Creativity apps for small business that helps them in doing things like creating social media posts, banners, Ads, making infographics, and designing projects and lot more.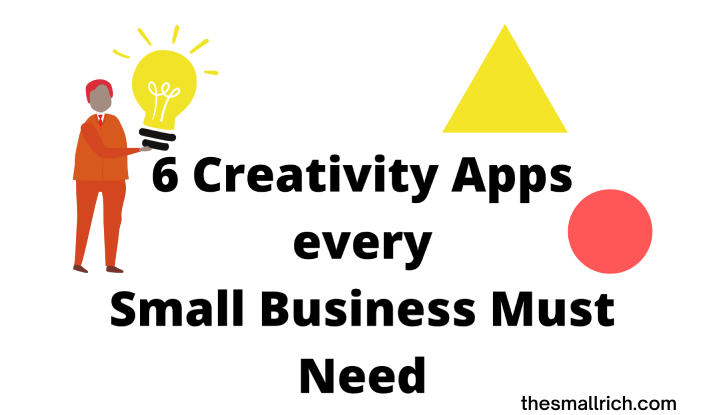 Six creativity Apps that we Recommend for Every Small Business
1. Canva
The first one in our list of creativity apps for small businesses is Canva. It's a graphic designing tool that allows you to edit photos, design social media images, create flyers, and a lot more.
Source: Canva
Most people look at it as an image designing tool but it can do a lot more than that, from creating infographics, presentations, business cards, logos, and resumes.
One of the most awesome things about Canva is that their Print feature. With this option, you can create a custom design and place an order to get it printed. Soon, Canva would deliver that printed design to your address.
Canva print offers a wide range of options like custom print t-shirts, business cards, wedding invitations, brochures, gift cards, and a lot more.
A notable feature of Canva is that it has a lot of pre-built templates made for different social media platforms and their dimensions were clear enough that they fit nicely according to your usage.
Features
Drag and drop feature
One click background remover tool
One click design magic resize tool
Huge amount of Premium Stock images, videos, and graphics
Pro plan features more than 420,0000+ free templates
Brand kit feature
Cloud storage option
Team collaboration
Best Suited for
Canva is best suited for small business owners, entrepreneurs, and marketing persons who want to design quickly and easily.
2. Visme
Visme is an infographic making platform, if you would like to show some statistics or tell a long story in short visually then an infographic is the best idea.
For businesses that involve digital marketing, surveys, finance, and education getting an infographic tool is the best option. Because these areas deal with lot of content that includes facts, figures, and numbers.
Source: Visme
And one of the best things about Visme is that they have templates that fit almost all kinds of businesses from Health, Marketing, Finance, and Travel, etc., making it one of the preferred infographic tools on the internet.
In Visme, you have lot of templates that fits for every businesses, ranging from marketing to health it makes it one of the most preferred tool for making infographics and presentations.
Visme's animations feature is one of the best part, you have access to lots of animated objects that can be added to your template.
And we also, like the E-book template feature, for those who like to create e-books, this feature helps them to customize the book with images, graphs, charts and icons with just simple drag and drop!
Features
Wide range of templates suited for almost all topics
Animation objects
Charts and widgets
Wide range of third party integrations available
Privacy control
Team collaboration
Brand kit
Projects can be downloaded into various formats like JPG, PNG, PDF, HTML5, Video, and GIF
Best Suited for
Visme is best suited for professionals who work in the areas of education, news, survey companies and marketing.
It is especially useful for those who want to represent the data visually and more interactively by infographics or presentations.
3. MindMeister
If you were into marketing or manage a small team getting a MindMeister online mind mapping tool is a best idea.
Source: MindMeister
Traditionally during project kick-off meeting we take a note or prepare a document about the whole project workflow. However, with a mind mapping tool you can do more better than that.
You can draw relations, flowcharts, ideas and concepts more visually.
One of the best aspects of a mind mapping tool is that it makes your team understand chaotic and complex patterns more easily.
Mindmeister is best suited for marketing professionals, consultancy companies, designing teams, analysts, and those who were into the field of education.
Features
Create more interactive brainstorming sessions
Interactive Notetaking feature
Multimedia attachments
Engaging presentations
Comes with a Project planning feature
Option to share, chat, comment and vote
Supports Import and Export of various file formats
Lots of customization options such as icons, maps, themes, images, color, and text format.
Best Suited For
MindMeister is a versatile tool that suits for both small and large companies where project meetings, brainstorming, meeting minutes are commonly seen.
4. Vyond
In our list of best creative apps for small business Vyond takes a special place.
Vyond is an online animation software platform that helps you to create animated videos at an affordable price. Rather than paying lots of money on creating a single video; with Vyond you can create more interactive videos affordably.
It is especially useful for those who run small scale marketing businesses. Where you can create a short and compelling animated video about the product that you like to promote.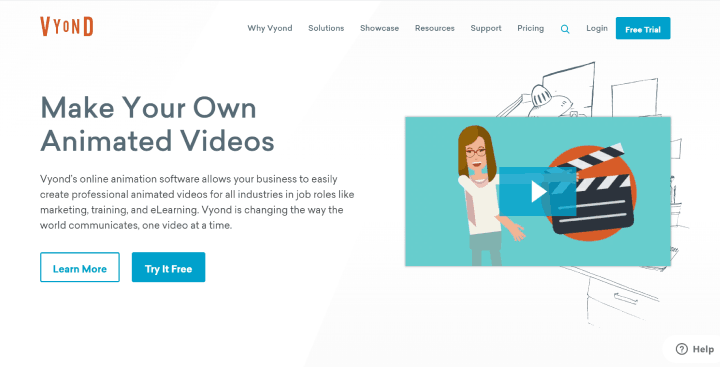 Source: Vyond
This way, you are not only saving time and resources, but you are also improving the user engagement which can bring you good ROI.
Vyond is also super helpful for HR professionals in creating eLearning videos for their employees. By doing this it improves your employee's retention time during training sessions. Thus, it directly improves their learning curve also.
Once you create an animated video using Vyond, you can save them in MP-4 format and then upload it into your LMS portal so that your employees can access it easily.
Features
Automatic Lip Sync
Pre-made Animated assets, templates, and characters
Access to Version history
Branding option
Comes with a lot of Security features like ISO27001 Compliance, GDPR and Vyond Secure Suite
Best Suited for
Sales teams and Digital Marketing professionals
Businesses that involve in creating eLearning courses
Those who run Training Institutes
5. Animoto
Its an easy drag-and-drop video maker loved by millions of people. Animoto helps you to create videos very easily. It is one of the best creativity apps for doing short video clips.
If your job involves creating short and compelling videos and promote them in social media platforms, getting Animoto is really beneficial.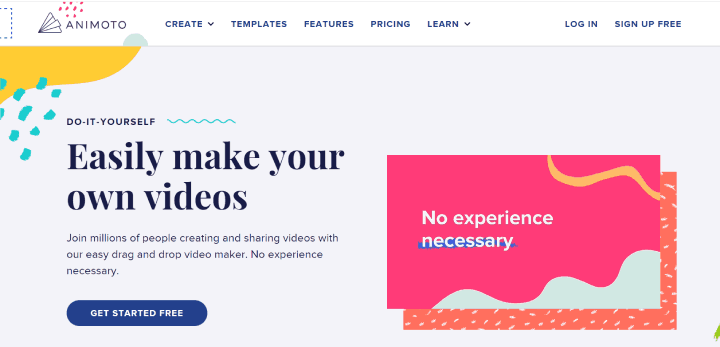 Source: Animoto
Features
Comes with lots of customizable templates
Over 40 professional fonts and text effects
Wide range of stock library for images and music
Cloud based video editor; makes it easy to access from anywhere
Oneclick share on youtube, Facebook, Twitter, and Instagram
Best Suited for
Animoto is especially useful for marketing teams in creating video based Ads.
For those who want to grow their brand presence on Instagram or Facebook via video based content, this is the best app.
For organizations who want to raise funds or bring awareness about their mission via their content.
Useful for those who involved in fields like real estate, photography, eCommerce, fitness, and education.
6. Sketchable
This is one of the lesser-known creative apps that can be used for business. Sketchable is one of the best free software tools to create high quality art.
If your business involves lots of designing work then you should try Sketchable.
Although there are popular programs like Adobe CC or Clip Studio Paint, they were bit expensive. If you want a cheaper alternative, then you can go with sketchable.
Source: SiliconBenders
However, it has its own downsides. For example, it is known to work more effectively on Microsoft Surface than other notebooks. But if you have a drawing tablet like Wacom then it works nicely.
Features
Economical app with a simple interface
Can create high quality art up to 4K resolution
The customizable journal feature allows you to change covers, names and choose different paper sizes
Customizable UI
files can be exported into .PSD format for further formatting in photoshop
Available in Windows store for free
Sketchable Premium costing around $25 you can unlock several features like Layers, Masks and Advanced Brush settings, Image import, Stroke stabilization, and more.
Best Suited for
Sketchable is an ideal app for everyone who deals with designing. However, it is especially useful for people who run businesses like interior designing, boutiques and custom artworks.