Are you struggling to make money by selling candles? Even after doing so much research and wasting money, you might question yourself is candle making business profitable? How much can I really earn by making candles?
Well don't worry, everyone involved in candle making business has run into the same situation in their lifetime.
That's why we have curated these 12 helpful tips that can improve your profits.
Here are 12 Tips to make your candle business profitable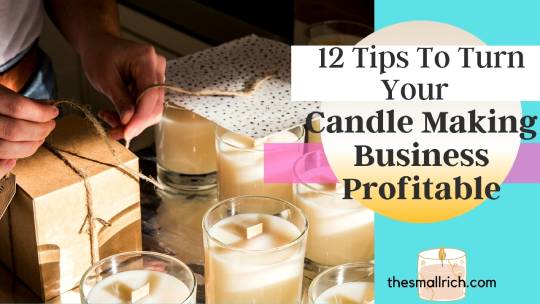 1. Promote your products on Instagram and Pinterest
With over 1 billion active users Instagram is home to the highest fanbase for cosmetic and beauty products.
If you just search for terms like candles, scented candle, or candle business in Instagram search you will get thousands of profiles having common interests on this topic.
Just search for term candle in the Tags area you will see a humongous number of posts using different tags associated with this term.
See the below screenshot as an example when I searched for term candle in the Tags section.
If you carefully observe, you can see different types of hashtags being used. Which are all related to the candle business.
For example, #candle is included in almost 10 million posts and #candlemaking is included in 8 million posts.
Now, make use of this data when you post about your product on Instagram and use all the related keywords of your business. It helps to grow fanbase and Increases brand awareness.
You can also connect with other candle makers and share ideas and tips.
At the same time if you have an Etsy shopping page just add that link in your profile so that users can directly shop your products.
Pinterest too is a wonderful platform for promoting your business, with over 300+ million users present across the world. There are good chances that visitors will easily land on your website when they find your pin eye-catching.
and interestingly, 48% of Pinterest users have shopping as their priority next to viewing images.
2. Sell Premium Candles at a Reasonable Price Initially
One of the advantages of being a small candle maker is that you can sell premium candles at a reasonable price. Generally, premium brands charge extra money for promotional and advertising costs.
As a small business, you don't have to worry about spending too much money on such stuff. Where you can save some money and invest in making similar quality candles at a reasonable price, this will attract more customers at the initial stages of your business.
3. Make use of Holiday Season
One of the major questions that every candle maker asks before getting into this business is, do candles sell well? If so, then what is the best time to sell.
The simple answer is yes candles really sell well, the best time to sell most of your candles is during the holiday season. Especially, the sales skyrocket from the start of Black Friday to New year.
According to National Candle Association 35% of sales occur during Christmas and Holiday seasons, whereas, nonseasonal business accounts for 65% of candle sales.
But keep in mind, for newly ventured candle business owners selling at Christmas season has more advantage than rest of the non-season because this is the time most people love to purchase gifts or give them to their loved one.
However, there is one caveat, prices of raw materials especially wax, tend to slightly increase during festive seasons. So, it is better to get most of the required materials within the festive season to escape high prices.
4. Consider Trying Rustic Scented Candles
Scented candles infused with essential oils have huge popularity all over the world they were known to give a relaxed feel and bring a meditative environment.
The global market share for scented candles is expected to reach 545 million dollars in 2025, this was just 364 million dollars in 2020!
With almost 2000 varieties of fragrances available in scented candles Rosemary, lavender, Vanilla, blueberry, lemon, caramel are widely popular.
However, the trend is slightly shifting towards rustic scented candles that are known to have a woody smell that brings forest or countryside atmosphere.
According to trendynewdesigners, rustic scented candles is a great way to bring back the past memories that you have spent with your grandparents and camping trips.
Some popular rustic candle smell includes pine forest, tobacco, mahogany teakwood, and cedarwood.
So, instead of completely focusing on making already popularized fragrance candles try to focus on making rustic scented candles.
5. Connect with Local Candlemakers
This is one of the lesser-known technique that can make your candle making business profitable. Usually, most of us sell candles in gift shops, supermarkets, or boutiques.
But there are dedicated candle stores that exclusively sell only candles and their products. One major advantage of selling via such local candle makers is, they charge very less amount to display your candles at their shops than supermarkets or gift shops would do.
However, there is one drawback in this, the number of candle shops are decling day by day and most people doest even know they exist.
Despite of this, you can still utilize this channel to market your products.
Remember, local candle makers have good connections with wax suppliers and distributors so once you have a good agreement with them you can purchase the raw materials and supplies required to expand your business.
6. Prefer Buying from Wholesale Supplier than Retailer.
One of the best ways to save some money in candle making process is to buy all the required raw materials such as wax, wicks, wick sustainers, containers, and fragrance oils from a wholesale supplier.
Most of us think candle-making supplies are easily available in supermarkets or local stores and when you initially see the price you may think they were affordable.
But, keep in mind retail outlets are meant for public purposes, where they usually don't sell bulk amounts.
However, when you purchase from a wholesale supplier you can buy a bulk amount of materials for a minimal price.
The simple reason is when you are purchasing from a wholesale supplier you are taking away the middleman.
7. Deciding Between Paraffin wax and Soy Wax
There is an unending debate whether to use paraffin or soy for candle making.
Most conventional candles available in the market are made up of paraffin wax, which is a petrochemical product formed during the process of refining crude oil.
There are increasing concerns about the use of paraffin wax in candle making, as they were known to produce carcinogenic toxins when burned.
However, there are speculations on the reliability of such studies, and It is not completely evident that using paraffin wax is bad or not.
Keep in mind, although paraffin produces some chemicals which can compromise the indoor air quality, it doesn't mean they cause full-scale pollution. Their emissions are so minimal that most of the people are not affected.
Despite all these, It is up to you whether to go for Soy wax or paraffin waxes.
If not both of them you still have alternatives like Beeswax, coconut wax, and stearin.
8. Use Recycled and Eco-Friendly Materials
One best way to maximize your candle-making business profitably is to buy affordable and eco-friendly materials.
For example, rather than spending a high amount of money on buying a brand new glass container, you can consider buying a recycled glass material.
Take the below two brands as an example.
Wax and Wick Work shop one of the popular candle makers uses 100% recycled glass for their candle jars.
A London based Young Enterprise named CAN-DLE, completely uses upcycled Tin Cans in their candle making process, plus all of their candles use biodegradable soy wax.
The use of recycled materials in the candle making process is not only profitable but also reduces landfill.
9. Stay Clear on How much to Price Your Candles
Pricing of your candles depends upon two things, cost of the raw materials and labor.
Each time you purchase something you have to question yourself 'is it really worth buying'.
For example, you decide to buy an industrial-scale wax melting machine to make large scale production of candles. But, if you haven't done a good enough job in selling candles then you have to think of paying the interest amount on that machine.
In the same way, you have two options on how much to price your candles.
Either, you can make cheap candles and sell them in bulk with an average price of 0.75$. This option works to get more customers initially. However, you have to work really hard to make a high number of sales to get a decent profit.
On other hand, you can make a limited number of candles with premium quality. Normally, premium candles range anywhere, between $50 – $200.
On seeing this, you may think selling premium candles would be more beneficial
However, you should know that there is a high competition for luxury candles, there are already established brands that were known for their premium products.
So, it is better to start off with low-quality candles initially and then slowly start to scale your business into making luxury candles.
10. Know your targeted customers
Before you make a specific type of candle you have to think who your targeted customers are. There are several equations involved in this.
To get an idea just think, a customer like to purchase a lavender scented candle to get a relaxing bubble bath at the comfort of their home.
While, a restaurant owner likes to buy a calm fragrance candle to light up a dinner party.
And uniquely, interior designers or newly married couples love to buy rustic candles that elevate their interior design and mood.
So, keeping in mind all such variations you need to craft your candles. You literally need to showcase your candles in such a way that, they were exclusively made for a specific need.
11. Show How Your Brand Makes a Difference
What do you think the reason for buying the same product again and again from the same brand?
Its simple answer, quality, and consistency.
No, not exactly, there is another underlying factor. It's the story behind the brand that connects its customers.
Today lot of small candle businesses are trying to give back something for a good cause.
For example, theearthcandleco, a UK based candle making company that plants a tree for each candle they sale.
Image source: EarthCandleCo
FreresBranchiaux an award-winning artisanal candle making company run by 3 young brothers who make handcrafted candles.
These brothers are not only lighting their own business but others too! by donating to homeless people.
Image Source: freresbranchiaux
They were on a mission to become the first candle truck company in USA and they were even receiving good fundraising too!
TheGivingWick a small candle company based in Chicago donates 15% of every purchase to charities that fight for a great cause, they were helping those who try to find cures for illness or diseases.
Image Source: thegivingwick
Remember, Once a customer finds value in your brand they get connected to your brand and like to stay on forever.
12. Keep an eye on Branding and Packing
Packing and Branding plays a prominent role in candle making. People love to buy candles that looks premium.
That being said, it is not mandatory that you use costly materials for packing or branding in initial stages itself.
Rather, you can even use upcycled materials and customize them with your creativity
Instead of buying specially designed gift boxes, you can use recycled cardboard material to pack your candle set. Just spice it up with a design and a logo. You are all set!
So, How much Money Can I Make from Selling Candles?
It depends upon the quality and type of candle you are making. if you dedicate a good amount of time and follow a schedule you can make it a profitable business.
On average if you make 20 candles a day worth $10 dollar each, then you can make 6000$ a month. if you minus the expenses on raw materials, marketing, and other miscellaneous costs of 1500$, then you would earn approx 4,500$.
But remember, candle business is seasonal so you cannot expect the same amount of money every season.
Here are some of the Best Advice for Those who are Starting a New Candle Business
Do not spend too much on branded packing and premium products in the initial stages itself. Run numerous batches in a pilot stage. Once you get an idea then purchase the supplies.
Do not go to paid promotion in the initial stages itself. spend more time on learning marketing and distribution using free sources. Use your social media, set up a small website, and run a blog to promote your business. Once everything looks perfect then, go for paid promotion.
If you want to start your candle business in the home itself, make sure you have safety measures in place. WHAT! Yes, wax is flammable and explosive too. So, before you start making them, make sure you check with your local permits and regulations. Failing to meet regulations can cause hefty fines, your business might even shutdown.
Always buy your supplies in bulk and that too form a wholesale supplier
Prepare a good amount of batch and set aside before the festive season arrives.
Make use of events and exhibitions by setting up a small stall for publicity