Globalization and Technology had a greater impact on Fitness Business. Gym owners all over the world are now facing a new set of challenges every day. For example, customers' needs had changed over a period of time, Now people are preferring Private online training sessions at home rather than attending a gym, preference for tailored fitness programs, and diet plans had increased. But the caveat is, several fitness trainers still follow conventional methods. This is creating an effect on their business and leading to a decline in their clients.
To overcome such challenges as well as to improve their business. Business coaching is important for fitness professionals. A fitness Business coach is one who guides gym owners to grow their business by implementing several strategies that aim to grow clients and increase revenue.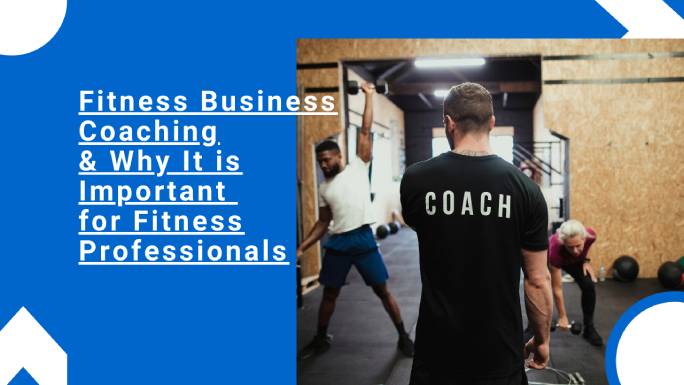 If you were running a studio or gym and having trouble growing your business. Then consulting a fitness business coach can be helpful.
Lets us now look into 8 reasons How fitness business coaches help gym owners to grow
8 Reasons How Fitness Business coaching can Help Fitness professionals Business
Reason 1: Changing Technology
Technology had become part of human life. We now have access to several gadgets and systems to make our lives easier. This is the same in the fitness industry too. Have you ever thought there will be a need where you need to provide virtual training to your clients? But circumstances had changed. Today the online/virtual fitness market is expected to reach $59,231 million by 2027 So who wants to lose a chance? Getting a Business coach who can guide you in getting a perfect technology suited for your business is key to improving your fitness business.
Reason 2: Adapting to New Workouts
Gym owners need to have a sound knowledge of different workouts so that they can satisfy different client needs. It can be difficult for you to learn all those things initially by yourself, But you should be aware of trending workout's and practices
For example, take HIIT (High-Intensity Interval Training) workout which is the most trending workout in the world. At the same time, holistic training approaches such as Yoga and Pilates are renowned globally and their market value is estimated to reach $215,811 million by 2025.
A fitness Business coach not only train you with newer workouts but also devise a business plan around the workout routine as per your target customers
Reason 3: Awareness on Equipment's
As a personal trainer you need to have hands on experience on using different types of gym equipment's. Especially, when you are running a gym you need to make sure you were able to provide tailored equipment suited for your clients.
Just remember that each equipment is a business investment, so you need to spend your money wisely. With so many equipment's available in market, it can be tedious to choose the perfect one. Hiring a fitness consultant can help you to decide the right equipment for your needs.
Reason 4: Growing Competition
Gaining a competitive edge is one of the key tasks fitness business coaches teach their clients. Today, the Fitness industry is facing intense competition and it continues to grow in upcoming years. Having an action plan will help you to gain a competitive edge and steer your fitness business in the right direction.
Take COVID 19 pandemic as an example, fitness industry all over the globe had faced several challenges during this time, several gyms had to shut down or lost their business entirely. However, some gym owners who were able to leverage technology had seen potential growth in their business. Especially, those who were able to provide virtual training sessions or stay connected to their clients through their fitness apps were able to provide their clients with several thing like tailored diet plan, customize work-out schedule, Q&A training sessions etc., this directly helped them to gain an upper hand over their competitors.
Now, if you want to stay in the competition in today's fitness business you have to be customer centric, explore more opportunities about your business, and make use of technology.
Reason 5: Finding a Right Balance Between Retaining and Growing Clients
There are multiple ways to attract clients be it a 6 week challenge, free 1 month one-on-one training session, or freebies etc., growing clients is easy but retaining them is the toughest part.
Some clients like to enroll only for the free period and then drop out once the period is over. It doesn't make sense If the number of clients enrolling is equal to the number of customers leaving your gym.
finding the right balance between retaining as well as growing clients is key to a successful business. If you see any abnormalities in this case then it is advisable to approach a professional who can help you get things on track.
Reason 6: Someone who act as a Motivator and a Consultant
There can be times where even the fitness professionals or gym owners gets completely lost. If not addressed this can be a serious problem affecting the morale of your clients and develops a lack of enthusiasm in running your own gym.
A Fitness business coach is someone who can provide both business advice as well act as a motivator. This is a key skillset of a fitness business coaches.
Reason 7: Stepping out of a Comfort zone
Just as above mentioned, fitness business coaches are those that empower gym owners to explore new ways, provide guidance and help to grow their business. If you feel you were getting into your comfort zone, just don't wait! reach out to a fitness business coach. Don't be shy about your failure, They can get you out of your comfort zone and get you back on track.
Reason 8: Improving Marketing Skills
Just like other businesses, marketing plays vital role in fitness industry too. Clients are now more known to recognize your brand when it has word of mouth. There are various marketing channels to promote your business like creating a dedicated website, running ad campaigns, testimonials, reviews, and social media marketing, etc., But there is a caveat, Marketing is a costly business. Especially, in fitness sector. A wrong approach not only means it doesn't reach your targeted customers but can also cost you several dollars leaving you empty handed. Getting advice from a Fitness business coach can help you to choose an ideal approach and help devise a dedicated marketing plan that can attract potential customers.