Coir products are extensively used in construction, agriculture, and packing industries It is a cheap and eco-friendly substance made from coconut. Today, Coir business is one of the leading business sectors in India with exports worth 2757.90 crores as of 2019-2020.
For several years, coir is simply used as a raw material for making ropes and fabric products. In most of the scenarios, it is just used as burning fuel for cooking purposes.
But modern technology had shown coir can be used in making various products such as coir bricks, coir pith, coir plyboards, coco coir pots, and coir yarn.
Among these, coir pith has high demand in countries like the USA, China, and Gulf nations. Thus, making the coir pith export business a preferred choice for several coconut farmers in India.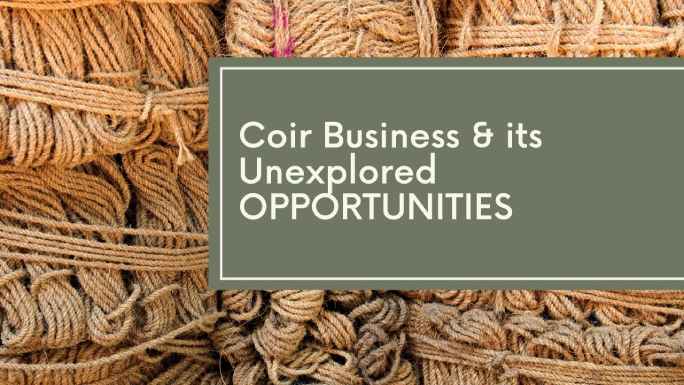 In this article, we will discuss
How to start coir business
Machines required for coir processing
Different types of coir products that can be made
Business opportunities
Market value and profit margin
Business Plan for Starting Coir Business
Before you start a coir business the first thing you need to do is make thorough market research about the coir industry such as different coir products and their market value, what type of machinery is used for coir processing, raw material, and its suppliers, and government schemes available in this sector. By doing so, you will get an understanding of this business which will further guide you in creating a detailed business plan that suits your business model.
Take a look at various business opportunities that can be created by coir products. Check the average market value of each type of product and create a business plan according to it.
| | |
| --- | --- |
| Type of Material | Uses |
| Coir Fiber | The main raw material of coir business. Especially used in making mattresses, rugs, brushes, and upholstery |
| Coir pith | Highly used in agriculture and gardening. Acts as a natural fertilizer |
| Coco Bricks | Used in Gardening. Well, known as potting mix and a substitute for soil, has a high water-holding capacity |
| Coir Scrub pad | Biodegradable product for cleaning kitchen utensils. |
| Coco Coir pots | Used for growing small indoor plants, it is a biodegradable material, good moisture retention |
| Coir Yarn | Natural rope made from coir which serves as the main component in construction, fishing, and packing industries |
| Rubberized coir | Used in making a mattress, floor mats, and car seats |
Types of Coir Products and their uses
Let us now see the requirements for how to start a coir processing unit.
Resources Required to Start a Coir Processing Unit
Raw Material
Coconut husk is the main raw material for starting a coir business. It contains several fibrous layers inside them which are simply called coir or fiber.
There are two types of coconut coir fibers the white coir fiber and brown coir fiber.
White coir fiber is obtained by soaking the tender coconuts husks in water for 6-10 months. These fibers are known for the highest quality and are used for making fine brushes, ropes, and fishing nets. 1 Ton white coir fiber price ranges from 15,000 to 20,000 rupees.
On other hand, brown coir fiber is obtained from the matured coconuts that were retted for a shorter duration of 5-7 days. These types of fibers are best suited for making coir mattresses and geotextiles. 1 Ton brown coconut coir fiber price ranges from 12,000 to 18,000 rupees
Location
It is best to set up the coir processing unit in a rural area where coconut plantations are abundant. This will reduce the transportation costs spent on raw materials at the same time the cost of workers will be less.
Land
Having at least 1 acre of land is ideal for setting up a coir extraction unit. Because the unit requires several types of machinery which takes up a lot of space. Typically, the entire machinery is set up in a large shed. Whereas, the raw material, coconut husks are stored in large piles outside of the plant.
Once extraction is completed, the fibers need to be dried under sunlight in open areas. Later, they need to be carefully packed and stored in a room to prevent rainfall and moisture formation. This is the reason the coir extraction unit requires a large area.
Water
Water is an essential resource for running a coir processing unit. Once the raw coconuts are obtained from the tree, they need to be retted for longer durations in large water tanks to soften the husks.
In addition to this sometimes, the fiber is also cleaned with a running stream of water to remove any debris.
Vehicle
Having a commercial vehicle like a small truck or a tractor is essential for a coir processing plant. Because you need tones of coconut for extracting fiber. At the same time, daily you will produce 1-2 tons of fiber which are hard to store in a long run. Hence, having a vehicle makes it easy to transport your products whenever required.
Workers
Having 3 to 4 workers are ideal for running a coir processing unit. Of which 1 person will be overseeing the machinery while the other workers can work on loading and unloading things, spreading the coir fiber into open areas after the extraction process. Once your production capacity is increased you can hire more number of workers.
Electricity
Coir processing unit requires a good amount of power supply. The entire power consumption of the coir unit ranges from 40 to 50 horsepower which is equal to 38 kW. Running the plant for 8 hours a day can take up to 304 Kw/h.
Machinery required for Coir Processing Unit
The traditional way of extracting coir is laborious and time-consuming. The use of machines can reduce the time and speed up the coir processing.
There are several machines used in the coir fiber extraction process and their prices vary depending upon capacity, working model, and durability. In India, most of the coir machine manufacturers are available in popular cities like Coimbatore, Pollachi, and Alappuzha.
Typically, most coir business owners buy the entire machinery set up from a single manufacturer rather than from multiple dealers. This helps the owners to get in touch with the manufacturer and get faster service during maintenance or breakdowns. Overall, a coir processing setup ranges from 15 lakhs to 20 lakhs.
Here are some machines used in coir making process
Coconut dehusking machine
Crusher machine
Disintegrator machine
Decorticator
Coir Pith screener
Business Opportunities in Coir Industry
Coir making process yields different materials like coir fiber, coir yarn, pith blocks, and wooden chips. All these materials have commercial value in the market. If you can utilize each of these byproducts properly, you can make decent profits.
Typically, a coir processing unit can dehusk up to 2000-3000 husks per hour. So, on average a fully operating unit can dehusk up to 25000 husks per shift (8 hours), which equals 1-2 ton coir fiber per day.
Market value for 1 kg coir ranges between 15-30 rupees, if we calculate for 1 ton it takes up to 15,000 to 30000 rupees.
In addition to these, coir processing yields a huge amount of coir pith which has good commercial value in the market as a natural fertilizer. You can sell the coir pith just as coco peat or make them into coir bricks and sell them in the market.
if your unit is also equipped with spinning machines, you can also directly produce coir yarns that have high demand in the construction, Shipping, and packing industry. Coir yarns can sell up to 40 rupees per Kg. Thus, considering multiple uses of a coco fiber a Coir's business gives good profitability if you can utilize all its raw materials properly.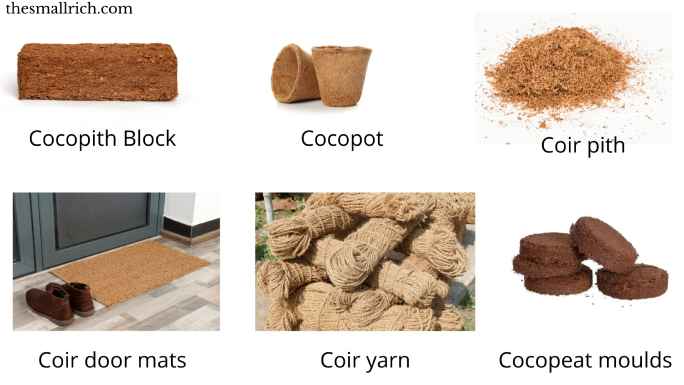 Also, various coir products such as coir pith block, coir yarn, rubberized coir, and coir fiber have good demand in nations like China, the USA, Netherlands, South Korea, and the UK. If you were able to produce good quality raw material according to the customer needs, then you can trade your material with the help of exporters to other countries.
Market value and profit margin for Coir Products
There are multiple products one can produce from coir and the good thing about it is, each product has its own price in the market. For example, if you are selling raw coco peat it will sell for 10-20 rupees per Kilogram. However, if you can make them into coco coir pots or else into coir bricks they will sell for more price.
The value-added products have a good profit margin in the coir business rather than raw products. So, rather than simply selling raw coir material you should also focus on making value-added products that have a good profit margin in the market.
Conclusion
There is a huge scope in the coir industry that is still to be explored. The availability of raw material (coir fiber) is abundant in India especially in states like Kerela, Tamilnadu, Andhra Pradesh, and Karnataka. More than two-thirds of world coir production comes from India. However, it is still underutilized. India Government – National Coir board is undertaking several measures to uplift the coir industry by providing schemes and financial support through co-operative banks, NABARD, Industrial Training Institutes, and MSME to encourage entrepreneurs and provide employment opportunities for rural area population. If you are young and like to start your own Business from your village then consider this as a golden opportunity.