Paper bag business is one of the best small scale business ideas that can be started with less investment and gain reasonable profit. The ROI in this business is decent and can provide a decent source of income for those who are living in rural areas and towns.
Today, paper bag making business is growing at a faster pace due to their high demand in the market and simple manufacturing process. In addition to that, several government bodies and NGOs are encouraging entrepreneurs to start this type of business by providing incentives.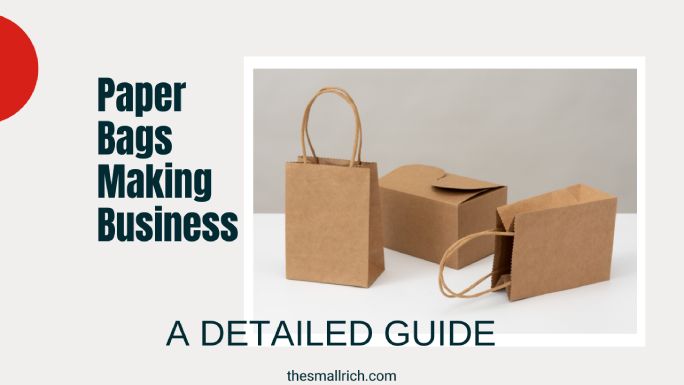 How Profitable is Starting a Paper Bags Making Business in 2021?
Regardless of the year, there is no doubt in saying paper bag making business is profitable. There are two strong reasons for this. One, it requires less investment and second, the raw materials used in the paper bags business are relatively cheaper. If you are able to manufacture good quality paper bags and catch the pulse of the market trends you can get a decent ROI of about 30,000 to 40,000 rupees per month.
Also, the ban of single usage plastic is one of the major driving factors that had created a huge demand for Paper bags. Several businesses were now using paper bags as an alternative option for packing their products as well as transportation purposes.
Here's the list of Profitable Businesses where Paper Bags have high demand
Restaurents
Pharmacy
Retail stores
Gift and noveality shops
Shopping Malls
Jewellery stores
Facts about Paper Bags Business Opportunities
When we look into the current market scenario the business opportunity for paper bags looks promising. From manufacturing to retail sectors almost all businesses require paper bags at some point of time.
Here are some quick facts about Paper bag industry
The global paper bag market is expected to grow at 4.3% CAGR from 2019 – 2023
Growth in retail business such as restaurants, super markets and shopping malls is creating huge business opportunity for paper bags everyday
Paper bags with less than 2 ply thickness are the most demanding in the world for their light weight, economical price and versatile usage
the open mouth paper bags are the most sought out and demanding type of products in the market.
Almost all top food chains and restaurants use paper bags for packing their food items.
With that being said, in order to become successful in this business, you need to maintain quality from day one. At the same time, spend more time analyzing the market.
Investment Required For Starting Paper Bags Business.
The investment required for this starting paper bags business depends upon the type of paper bag that you want to manufacture and scale of your business. If your objective is to sell paper bags to a small group of shops and vendors then, you can start this business from home itself, which requires around 2-2.5 Lakhs rupees.
However, if your focus is on making large-scale business such as manufacturing high-quality paper bags that are used in luxury shopping malls then you may need to invest up to 10-15 Lakhs
Resources Required For Paper Bags Manufacturing
There are four major elements required for manufacturing Paper Bags
Machinery
Location
Raw Material
Workers
Machinery
The paper bag making machine is the main component of this business. An automatic paper bag making machine price starts from 5 Lakhs and ranges up to 10 Lakhs. Normally, an automatic paper bag machine is capable of producing 10000 – 15000 pieces per hour.
So, taking into consideration, you require at least 5 Lakhs of initial investment just for machinery itself. On other hand, you can also go with less expensive methods like a semi-automatic machine or a completely manual machine.
Whatever machine you choose, It is always recommended to buy from a reputed supplier who can provide installation and support within a reasonable time frame. Because, if there is a technical problem and the machine stops working, it will impact your production plan. Thus, changing your budget plan also.
Location
If you are starting paper bag making from home, then a room size of 100-120 Sq.ft is ideal enough, this can accommodate a manual machine and space for storing raw materials
Whereas, if you use a semi-automatic or automatic machines for the manufacturing process then, you require a dedicated location with a 500 sq. ft area.
While choosing a location you have to keep following things in mind
Cost of the Rent – Choose a semi urban locality
Location of the manufacturing unit – Should not be too far from markets and shops
Power supply – ideal enough to run a 2-3 Horsepower motor machine
Raw Materials
To start making paper bags you require different types of raw materials, and they should be in the right quantity for carrying out the manufacturing process without any shortage.
Choosing the correct vendor is important when you are purchasing raw materials. Look for a vendor who can supply quality paper, deliver on time, and provide a reasonable price.
At the same time, try to avoid overstocking. Because it will unnecessarily increase your operating costs.
List of raw materials for Paper bag Making
| | | |
| --- | --- | --- |
| Paper Bag Raw materials list | Description | Average Price in rupees |
| Kraft paper rolls | 100-250 GSM | 30-70 per Kg |
| cardboard paper | 100-200 GSM | 30 per Kg |
| Coated paper | 70-250 GMS | 60-70 Per Kg |
| Offset paper (used for labeling and designing) | 120-200 GSM | 60-80 per Kg |
| Industrial Grade Adhesive (Glue) | water-based adhesive or hot melt adhesive | 30-50 per Kg |
| Eyelets (Brass, Aluminium, Plastic) | Metal/Plastic | 100-200 packet |
| Paper lace | Rope handle/polyester | 0.75 – 0.9 pair |
Workers
small scale paper bag making business doesn't require many workers. You can run the unit efficiently with just 5 workers. However, if you have more than two to three machines then you need at least 10 workers.
Paper Bags Manufacturing Process
The manufacturing process of paper bags is simple. it does not involve complex steps. If you are using a fully automatic paper making machine, then all you have to do is to load the paper roll to the machine and make sure it is adjusted properly and switch on the PLC unit.
Most automatic machines will have a PLC control unit with which you can control the production speed and size of the paper bag.
If you cannot afford an automatic machine, then you can also do the process manually. However, the output may not be as fast as automatic machines, but you can achieve good results on an economical budget.
If you are manufacturing Paper Bags in a manual process then you need following types of equipment
Cutting machine
Paper creasing machine (used for changing V shaped bottom to square shaped bottom)
Eyelet punching machine (Used to punch holes and attach eyelets to the bags)
Shape cutting machine
Screen printing machine (This is optional, if you want to print designs or logo you can purchase it)
Roll slitting machine
Testing scale
Gumming machine
In these above-mentioned machines, the creasing and pasting part can only be done by machines. While the rest of the process can also be done manually.
Steps Involved in Paper Bag Manufacturing process
Decide the size and variety of paper bag to make, basing up on it an appropriate paper material should be chosen first.
Later, as per the desired size the paper material is cut using a cutting machine
And then, it is passed through the creasing machine to give it appropriate folding.
The folded paper material is hard pressed using pressing machine to make it firm
Then, it will be passed through the paper bag printing machine to add a logo or a design
After printing, the paper bags will be passed to eyelet punching machine.
Finally, the handle or laces will be attached to the bag using an adhesive.
Where to Buy Paper Bag Making Machines
Paper bag making machine manufacturers are available throughout India in major cities like Coimbatore, Mumbai, Bangalore, and Chennai.
Among the cities mentioned above Coimbatore is the most popular one. Just type in and search for Paper bag manufacturers in Coimbatore you will get plentiful results. We have sorted out some of the reputed manufacturer's list for you
SK Machines
Kentech
Unique Fluid Controls
DP Machines
FTC Machines
Paper Bags Marketing
When we look into current market trends, Paper Bags that were sold at Branded clothing stores, expensive watch stores, cell phones, and jewelry stores provide a good profit margin. These businesses usually maintain a brand value of their product and so they even try to maintain the best quality and service even in packing their products. However, securing business with such large shops is quite difficult because they were already tie-up with large Paper Bags supply owners.
However, you can also focus on producing economical paper bags that are suitable for retail stores, medicinal stores, and hotels. Although the ROI by selling paper bags to such small businesses might be less, they help you to build your business first.
If you were able to make a deal with 50-70 stores in your initial stages and try to provide different models according to their business needs then, if you can make a repeat business of 90% with them in the next year also then it is not that hard to get success in this business.
Here are some Marketing Tips for Selling Paper Bags
Imprinting a custom logos can help you to secure more clients
Try to secure Business with larger business like jewelry stores, clothing merchants and electronic shops
Don't only focus on cities, try to capture business in towns and cities
Try to setup a small stall in gated communities and near to super markets
Focus more on securing business with small merchants and street vendors.
Provide business cards when you make a deal with small or big clients
Try to give ads in local news papers during festive seasons
Profit Margin in Paper Bags Business
Let's now look into a rough estimation of a Profit Margin in Paper Bags business that runs for 300 days on an automatic machine, with two employees. let us consider 10×14 inch paper bags with 80 GSM were manufactured in this scenario.
Disclaimer
Please note, this is just an informational and rough estimation of Profit Margin. Please approach a Project consultant or an appropriate individual for making real estimations basing upon your Project Report.
Initial costs
Entire Machinery setup
4,50,000
Rent for Building (per month)
8,000
Initial costs for setting up a business
30,000
Total Expenses Before Starting Business
4,88,000
Estimation of Working Capital for 1 month
Considering (5000 paper bags per day)
1,50,000 (per 30 days)
Cost for making one paper bag
2.00/-
Total cost for making paper bags per month
3,00,000
Salary for workers (2 members) (6000/- each)
12,000
Expenses (Marketing, Electricity bills, Transportation, and other costs)
20,000
Total Working Capital for one month
3,32,000
Total Cost of Project
Total Expenses Before Starting Business
4,88,000
30% capital margin
1,45,000* (round off)
Total Project cost
6,33,000
Resources
Investment from owner
250,000
Bank loan
350,000
Working capital loan
300,000
Total Investment
9,00,000
Profit Estimation
Yearly amount for Paper Bags (selling each at 2.75/-)
49,50,000/- (1,50,000 bags * 12 months * 2.75/- per piece)
Monthly expenses (12 months)
39,84,000
Depreciation 15%
72,000
Interest on loans (15%)
97,500
Total expenses for an year
41,53,500
Profit
Yearly amount on paper bags – Total expense (49,50,000 – 41,53,500) = 7,96,500
Paper Bag Profit Estimation Chart
Let us remove 96,000/- from the above-estimated profit per year. Even, after that, you still have a good ROI.
Looking into current market trends and future growth, Starting Paper Bags Business is worth considering. Especially if you were starting in rural areas, this business can act as a potential source of income and provide employment opportunities for the needful.