Book Binding business involves the binding of books such that they are enclosed in an outer material that gives a book stability and durability. The bookbindery business is one of the best home-based business idea that can provide a decent income as well as work as hobby side hustle
Over the past years, the number of book binding companies as well as individual book binder have dropped due to low demand and preference for digital use over books. However, one shouldn't worry that there is no scope for this business. You still have a good opportunity and plenty of internet information that can help you to grow your business
So, if you are a book binding enthusiast or looking forward to starting a small book binding business from home. This guide can help you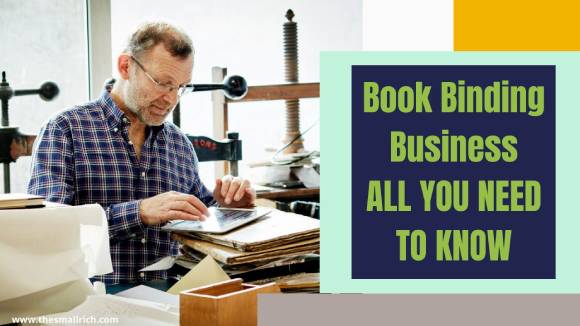 Pros and Cons of starting a Book Binding Business
First things first, before we start going through the business plan for book binding business lets quickly find out the pros and cons of this business
Pros of Book Binding Business
Requires very little investment. One can start a decent book binding company with less than $ $10,000.
Can be run by single person
Raw material/ craft supplies are readily available and come at reasonable prices.
Works best as a hobby side hustle. A good source of income for home makers.
Requires less capital for marketing and distribution
Plentiful of resources to learn and develop
Con's of Book Binding Business
Low demand in market
Requires time to acquire customers.
Changing customer preference to digital usage rather than books
It has to be unique to attract customers
One must be creative and have high attention to detail to be successful in the business
Due to low market demand, one cannot expect high profits or revenue from this business
After reading the pros and cons you must be wondering, is this business right for me or not. Please don't jump to a conclusion right now. Just go through the entire article and finally decide if it's a right fit or not
Business Plan to Start a Book Binding Business
In order to start any business, one must first have a clear picture of the business plan to ensure they have clarity on what they are doing. Any business plan will have five essential elements that are resources, money, production, profit margin and marketing. So now, we will discuss on each of these elements and how they fit into your business
1. Conduct Market Research
Market research is an essential element of any business. By conducting market research you can understand customer preferences, market trends, and pricing structures
This allows you to have a better idea of materials to acquire, proper marketing channels, and pricing strategies. So here are some effective ways to do a personal market research
Type in any search engine – Bookbinding shops near me – This will give you information about the number of services around your locality. Check each one of those and read through the reviews.
Go and find out how much these bookbinders are charging to the customer and what type of services they are offering.
Look for Questions asked by users on 'Quora' and 'Reddit'. This information too helps you to jot down the ideas.
Browse through Pinterest, Instagram, and YouTube to get ideas on various types of book-binding supplies and bookbinding ideas. This will create interest
Next, search in online e-commerce stores such as Amazon, Etsy, eBay, etc., for bookbinding kit and tools. Compare the prices in the online store vs. your near by stationary shop
In e-commerce stores look for 'binded books' and then use filtering options such as price, size, and design, etc., Boiling down by this method will help you to know what kind of books are popular in the market and help in kick-starting the production process
2. Resources required to Start Book Binding Business
The resources required to start the book binding process are minimal and are mostly economical. Here are the resources required to start a small book binding business
Book Binding Tools
The tools required for book binding are mostly available in almost all stationary shops or you can also purchase them online. Here are some essential tools required for the binding process. Most of the essential book binding tool kit can be purchased for $2,000 to $3,000. However, it may even cost more if you are going for a high-end automated press machines
Threads (especially waxed thread)
Large eye, small eye bookbinding needles and curved needles
Binding ribbon
Scissors
Utility knife
Steel ruler
Bone folder
Glue brush
Wooden handle awl
Kraft papers
Book board/Binder boards
Adhesive
Work bench Large
Book Nipping press
Manual Press machine
Embossing
Area for Working
Book binding process doesn't take up so much space. One can even run the business from home. Almost all the equipment required for the binding process can easily fit in 100 to 200 sq. ft space. This much amount of space is super enough to store and easily organize your work area
Due to such low space requirements, you don't have to bother renting a space. However, if you are interested in making it a medium-scale business and thinking of hiring an assistant, you can rent out a small space of about 200 – 300 sq. ft
Miscellaneous Requirements
In addition to workspace and supplies. You may also need to think about having basic amenities to carry out the business, such as having ample power supply, a small office set-up, and cabinets for storing your supplies safely
3. Establishing a Legal Business
Once you have completed market research, acquired resources, and figured out a working area, it's time that you officially set up your business legally. Most of the book-binding businesses come under small-medium scale businesses. Here are important things to consider when you're registering your business
Business Registration
Depending upon your feasibility, business size, and operating method, you can decide to register your book binding business as a sole proprietorship, partnership, LLC, and corporation
Creating Business Account
When you are operating a business, its always advisable to have a separate business account registered. This helps you to separate your personal finances from the business. It also helps you in filing for taxes easier
Registering for Taxes
In order to make sure you are running your business smoothly, it's always better to keep a check on different types of taxes your business might require such as Federal tax, state, and local taxes. In order to check with the taxes, you must register for EIN- Which is a unique nine-digit number assigned by the IRS to any business operating in the USA
Licenses and Permits Requirement
In general, book binding businesses generally don't require any special permits or licenses to operate. Especially if it comes to small business, most of the states allow these types of business without any permits. However, it's basic to have a general business license
To make sure you are operating legally, its advisable to check with your local state secretary or contact your local small business administration office
4. Investment Required to run a Book Binding Business
In general, a book binding business doesn't require high capital. It is one of the best small business ideas that can even operate from home. However, the basic essentials such as the tool kit, workbench set-up, and Website require around $3,000 to $5,000. Most of this amount is a single-time investment.
On the other hand, if you are renting a small space of just about 100 – 200 sq. ft which is not in the most demanding area, it may cost you $250 – $450 per month
For raw material such as paper material, cardboards, craft papers, and paper boards which are essential items that are required each month one may spend around $100 to $200
For marketing, promotion, and brand identity one may spend around $300 – $500. This amount is sufficient for 2 – 3 years for a small business that just requires a basic website theme, small hosting capacity, and decent marketing campaigns
So, overall, a decent small-scale bookbinding business can be started off with $3,000 to $5,000
5. Book Binding Production Process
There are different ways one can bind a book. You can either manufacture books on your own or acts as a third-party book binder company for a publication
In most cases, a small-medium scale book binding company usually produces a small proportion of binded books on their own. This means they acquire the paper, and raw materials, stitch and bind the book completely on their own, and start selling them in market. In this scenario, you are the one who is going to completely invest
The second option, you will start doing the binding process for other publication houses. In this scenario, the customer will provide the requirements and based on it, you will quote the price required for the raw material and also finalize the profit margin
Different types of Book Binding process and their details
Across the world, there are several methods of book binding process that are best applied based upon the customer preferences and demand in the market. However, according to Iron Mark, there are four most common book binding methods that are popular throughout the world
Most of the binding process fall under these four categories, so lest take a look at each of them
Type of Binding Process
Details
Cost and Time for production
Hard cover or Case Binding
The most popular binding method for dairies, planners and special edition novels.
Gives good stability and a premium feel for the book.
Highly durable and best suited for books that require heavy usage.
The outer cover which requires presentation must be printed specially. Which can add up the costs
Most Expensive and time-consuming book binding process.
Due to their weight cost of shipping these books is also high
Perfect Binding or soft binding
The majority of books are done with soft binding process.
Common for daily usage books
The soft outer case can be customized easily with wide designs that can attract customers easily
The most economical Bookbinding process.
Best for beginner book binding business.
Due to their low weight, shipping costs are usually less for these types of books.
Takes less time to manufacture
Saddle Stitching
The easiest way of binding books. In saddle stitching, the papers are simply folded to half and are either stapled or stitched with a thread.
Highly used for magazines, brochures, and catalogs
Highly cost-effective and fast to produce.
Doesn't involve too much technicalities.
Lightweight and easy to ship
This can be done with very few supplies
Spiral Binding
Involves punching holes in the pages and a plastic wire or a metal wire is winded spirally through these holes.
Gives optimum stability to book.
Highly used in the documentation industry, thesis, or research work.
Another cost-effective binding process.
The outer cover can be hard or soft material.
Quick and effective for self-publishing books
The punched holes might get damaged over a period of time making the book hard to access
Different types of Book Binding process and their details
Steps Involved in Book Binding
A simple bookbinding process requires a few tools and a workbench that can assist you in carrying out the binding process. Plus, you need a couple of papers and kraft paper/binded board for making an outer cover
Here are the steps involved in book binding process
Setting up paper for the binding process – To get started with the binding process, you need to set aside couple of papers. Which are folded in half. To make sure the paper is folded properly without any rough edges, make sure to soften the surface with a bone folder
Cutting the paper to the required size – Next, the folded papers are cut into the required size depending upon the size and type of book you would like to bind. These steps require utility knife, ruler, and a cutting press (optional)
Punching Holes – Once you have the papers cut into required sizes, you need to punch holes at a desired distance.
Sewing – By using a thread and needle you can start sewing all the pages. There are different types of sewing techniques that might be different for different types of binding processes. You need to decide which one is best suited for your process
Gluing Spine – Once all the paper is sewn, it needs to be intact. For that, we need to apply adhesive to the spine. These require the help of a nipping press to hold the papers firmly
Cutting the extra edges – Once the glue is applied over the spine and the book is subjected to pressure overnight, it will be taken out from the nipping press and the extra edges will be chopped off for a desired size
Reinforcing the Spine – In order to make the spine of the book remain intact you need to ensure the spine is reinforced with either a cloth or waxed paper
Attaching an outer cover – The last step of the binding process involves, adding an outer cover to the book. A binding paper board is usually used in case it's hardbound. This will be attached to the bound paper and finally, an outer color paper or a unique design paper sheet will be attached to the paper board giving a complete outlook to the book.
Overall, a set of 10 hardbound books requires about 1-2 days of time to finally complete in a manual method
However, with the help of automatic case-binding machines, you can get 300 – 500 hard outer cases within a day, and then with the help of a worker, you can continue the attaching process. Although automatic book binding production is costly, it saves a lot of time and also highly increases your production capacity
6. Profit Margin in Book Binding Business
The profit margin in bookbinding depends upon quality, quantity, and materials being used for the binding process. A typical hardbound book binding process usually costs $15 – $20 per book. Please note, that the price may also vary depending on the number of pages
So, if you have an order to make hardcover binding for 100 books, charging $20 per book would make $2000 in total
Let's assume you have spent $5 for the resources per each book, then your overall return of investment is $15 x 100'nos = $1500
So, let's assume if you can get 2 orders per month binding 100 books for each order, you can make around $1500 – $2000 per month.
7. Marketing and Expanding Your Business
Marketing is quintessential for book binders to attract customers and showcase your designs to a wider audience. Unlike previous days, where bookbinding enjoyed a repetitive business, it is quite challenging to make it a sustainable business source if you are not following digital media
So, to expand and attract your audience and increase your business, you can implement the following strategies
Set up a website for your book binding business. Make sure it has the information about the services your business offers and the Contact Us page.
Create accounts on Facebook, Twitter, Pinterest, and Instagram. You can post updates of your completed projects on these channels. Of course, you need to get consent from your customer
Use e-commerce sites like Shopify, and Etsy to sell your designs worldwide
In addition to marketing you should also focus on expanding your business. Please just don't fix yourself as a book binding service. Instead, your creativity and tools can also be be utilized for making other items too such as designing brochures, welcome cards, envelopes and visiting cards